Consider 1-ball roller bowling ball bags for carrying around and protecting your bowling gear. When it comes to selection and quality, BowlerX.com has it all.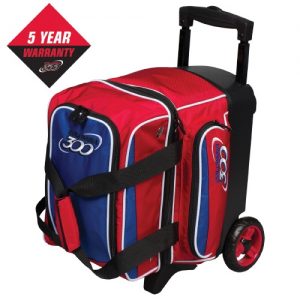 Since 2008, customers have trusted BowlerX.com as one of the largest online bowling retailers in the U.S. and rated us #1 for customer service, product knowledge and pricing. As an authorized dealer for all of the brands we offer, we stand behind every sale, and you can be sure that you will receive first quality products from us at the lowest prices.
We carry bowling bags, bowling balls, bowling shoes, and bowling accessories from the greatest brands, including Brunswick, Columbia 300, DV8, Ebonite, Hammer, KR Strikeforce, Motiv, Radical, Roto Grip, Storm, Track, Vise, and others. If you love free shipping and low prices, look no further than BowlerX.com!
Choosing a Bowling Bag
Bowling ball bags are a great way to carry around equipment and accessories to practice or league night. Choose a bag or tote that holds only one ball, a 6-ball roller that holds six bowling balls, or something in between.
A beginner may only have one ball, a pair of shoes and minimal accessories, so a simple one ball tote bag would be perfect. A more advanced player might have 3 balls, shoes, a towel, and a grip bag, and would probably love a 3-ball roller with shoe storage and extra compartments.
Bowling Bag Types
There are two different types of bowling bag – a bag that can be carried or a bag with wheels that can be rolled. Choose based on how much equipment you typically carry around.
Tote Bowling Bags: These bags usually have both handles and shoulder straps and are meant to be carried by hand. They are typically designed for only one or two balls because more balls in one bag will make them too heavy to carry for the average person.
Roller Bowling Bags: These bags have wheels that enable you to pull the bag behind you when you walk in and out of the bowling center. A 3-ball roller bag is one of the most common options, but 1-ball and 2-ball rolling bags are popular.
Top Selling 1-Ball Roller Bags
For men: Available in several colors, the Columbia 300 Icon Single Ball Roller is an excellent mid-priced choice. It features a locking handle that extends to 39-inches, a vented shoe compartment for up to size 15 shoes, a large pocket for accessories, and large EVA foam/PP Spyder wheels for a smooth quiet ride.
For women: Women will appreciate the bold and stylish new look of the pink and black Storm 1-Ball Rascal Single Roller Bowling Bag. The easy-glide wheels, telescopic handle, large reinforced zippers, and shoe compartment that accepts up to size 15 shoes are ideal for the single-ball user.
For kids: Young bowlers will get lots of use from the Ebonite Eclipse Single Roller that accommodates up to size 13 shoes and accessories and comes with a 5-year manufacturer's warranty.
If you have questions about 1-ball roller bowling ball bags or other bowling equipment or accessories, BowlerX.com can help. We encourage you to call us at 844.269.5379 or contact us online for more suggestions.