Transport your gear in style with 2-ball bowling ball totes from BowlerX.com. They're available in a variety of styles and colors for adults and kids.
BowlerX.com is the online bowling superstore! We're based in Bethlehem, Pennsylvania and rated #1 for customer service, product knowledge, and pricing. When you shop with us, you can be sure that you will receive first quality products from high-end brands at excellent prices.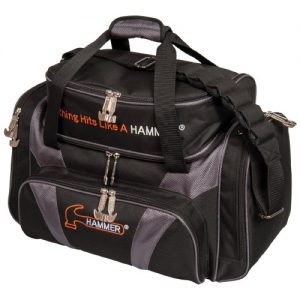 We offer:
High-quality bowling products at the lowest prices;
Products from all major brands, including Brunswick, Columbia 300, Dexter, DV8, Ebonite, Hammer, Motiv, Roto Grip, Storm, and Track
No seconds or blems;
Easy online ordering;
No hidden fees;
FREE standard ground shipping;
Simple return policy – no hassles, no questions asked;
Friendly, knowledgeable customer service.
Choose the Right Bowling Ball Tote
Bowling lovers know how important it is to protect a bowling ball when carrying it around to keep it clean and prevent scratches. There are two main styles of bowling bags – totes that can be carried and wheeled bags that can be rolled like luggage. Choose the one that best meets your needs.
If you're a serious bowler who transports multiple balls and accessories, roller bags may interest you. Available in 1-ball, 2-ball, 3-ball, 4-ball, and 6-ball configurations, they feature extendable handles, shoe compartments, and typically have large interior pockets for stashing accessories.
If you're a recreational bowler, a 2-ball bowling ball tote may be your best bet. You may have only one ball, a pair of shoes, and a towel at the moment and could get away with a single-ball tote, but you'll probably want to buy a spare ball or another strike ball in the future.
Unless you don't mind wasting money by eventually buying two separate bags, start with a 2-ball tote bag and take one or two balls with you at any time.
Tote bowling bags are compact and take up little room. fitting easily into a packed car or under a seat. They feature padded compartments for your balls as well as a cushioned handle or non-slip shoulder strap that enables you to carry them comfortably like a duffle bag.
While choosing your tote bowling bag, pay attention to its strength and durability. Bowling bags are not just average sports bags. Your ball alone could weigh up to 16 pounds, so you'll want a bag that's made with durable fabric. It should also be waterproof or the balls and accessories you keep inside may be damaged.
You may find bowling totes, such as the Hammer Deluxe Double Tote, that are made with 600D/1680D fabric. The "D" stands for "denier". Denier is a unit of measurement that describes the fiber thickness of the individual threads used to make textiles and fabrics. Fabrics with high denier counts in the 600D to 1680D range are thicker, sturdier, and extremely durable.
Shop 24/7/365 at the BowlerX.com website for 2-ball bowling ball totes and other top-quality equipment from many other brands. If you need more information, give our team a call at 844.269.5379 or contact us online. Shipping is FAST and FREE!