Looking for the best 2-ball roller bowling ball bags? Whether you're headed to league night or just to practice, these bags are designed to hold all of your bowling gear in one convenient space, and BowlerX.com can help you make the right choice.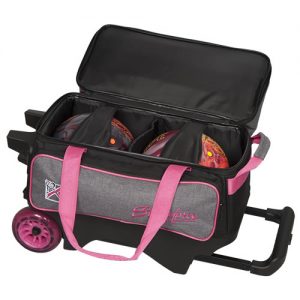 BowlerX.com is the online bowling superstore. We are based in Bethlehem, Pennsylvania and are rated #1 for customer service, product knowledge, and pricing. We are an authorized dealer for all of the brands we sell and will stand behind every sale. We offer:
Unique high-quality bowling products at the lowest prices;
No seconds or blems;
Easy online ordering;
FREE standard shipping;
No hidden fees;
Simple return policy – no hassles, no questions asked;
Friendly, knowledgeable customer service.
How to Choose a Durable Bowling Ball Bag
Bowling bags are available in a wide range of styles and sizes and are designed to hold from 1 to 6 bowling balls. Many of them include separate pockets or compartments to accommodate bowling shoes and other accessories. The simplest bowling bags look like backpacks, while others resemble a hand truck and feature stackable detachable sections.
As you evaluate 2-ball roller bowling bags (or other configurations), the construction of the bag may be the most important factor to consider. This will determine how long the bag should last and its cost.
Bowling bags are not just average sports bags. Your bowling ball alone could weigh up to 16 pounds, so you'll want a bag that's made with durable fabric and has a strong, durable handle. A well-made bag will also be well-balanced, evenly distributing the weight and making the ball feel lighter than it actually is.
You may see bowling bags, such as the KR Krush Double Roller, described as being made with 840D, 600D, or 840D/600D fabric. The "D" stands for "denier". Denier is a unit of measurement that describes the fiber thickness of the individual threads used to make textiles and fabrics. Fabrics in the 70D to 400D range are lightweight and softer. Fabrics with a higher denier count in the 600D to 1000D range are thicker, sturdier, and extremely durable.
Also look for a bowling bag with a heavy-duty frame and hardware, reinforced or double zippers, a steel axle, and larger wheel sizes for increased mobility and stability.
Lastly, if you plan to travel by air with more than two bowling balls, look for a bag that detaches into separate bags. Although a 3-ball bag would be within the weight limit for baggage, many airlines will only allow you to check 2-ball bags.
Buy 2-ball roller bowling ball bags from BowlerX.com, an online retailer you can trust! We offer a huge selection of products and exceptional customer service.  When you need more information, give us a call at 844.269.5379 or contact us online.