If you prefer the style of a duffle bag to a bulkier hand truck for carrying around your bowling gear, look no further than BowlerX.com and our huge selection of 3-ball bowling ball totes for the serious bowler.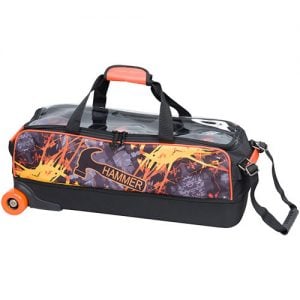 BowlerX.com is rated #1 for customer service and product knowledge. We have been a family-owned business since 2008, and customers trust us as one of the largest online bowling retailers in the U.S.  Headquartered in Bethlehem, Pennsylvania, we stand behind every sale, and ensure you that you'll receive first quality products from us at exceptional prices with fast and free shipping.
Our friendly, experienced staff of real bowlers are knowledgeable in the products we offer and are always happy to answer any questions you may have. If you don't see what you're looking for on our website, be sure to contact us.
Perfect for Travel & Tournaments
Three-ball bowling ball totes are a convenient way to carry your gear to the lanes for practice and tournaments and will also making traveling easier. Most of these triple totes feature:
Compact design that holds 3 bowling balls
Smooth rolling wheels for easy portability
Heavy duty 600D to 1680D material
Reinforced zippers
Padded non-slip shoulder strap and rugged tote handle for comfortable transportation
These totes are durable and have sleek designs that also make them great gifts for the advanced bowler in your life.
Grab a New Bowling Ball
If there's room in your new 3-ball bowling ball tote for one more ball, we encourage you to check out the selection at BowlerX.com. Our favorite brands include (but are not limited to):
Brunswick – One of the oldest bowling companies in the world, Brunswick has been making bowling balls since 1845. They offer top-rated balls for every skill level and ball type. Their redesigned Quantum has a new Quantum Mushroom High RG Asymmetric core shape and a reactive coverstock for better durability, performance longevity, and incredible hitting power.
Hammer – Hammer bowling balls are known for moving on the lanes and hitting like a hammer. They manufacture everything from entry-level to high-performance balls for every type of bowler. They made the first 2-piece urethane balls and continue to innovate.
Motiv– Initially, Motiv manufactured millions of high-performance cores for top bowling ball brands. Today, they are a full-blown ball manufacturer with distinctive graphics technology and the strongest symmetrical bowling ball called the Forge. In 2012, their balls won first place in every single performance category in a poll of highly competitive tournament bowlers.
Roto Grip – Since it was founded in 1955, Roto Grip has been an innovator in the bowling ball industry, producing high performance balls that BowlerX.com customers love. Their innovative designs are known for improving skills and scores.
Storm – After initially manufacturing only ball cleaners, they released their first bowling ball in the 1990s and have been going strong ever since. Storm high-end and high-performance balls are popular with many professional bowlers.
For 3-ball bowling ball totes and new bowling balls from your favorite brands, visit BowlerX.com, where you'll find a wide range of products.  If you need help making a decision or need additional information, give us a call at 844.269.5379 or reach out to us online.