Have you been searching for 3G men's bowling shoes or shoes from other brands? Look no further than BowlerX.com for the best selection and prices!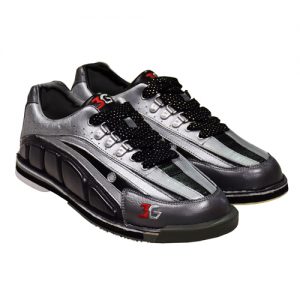 BowlerX.com is the online bowling superstore. We are based in Bethlehem, Pennsylvania, are rated #1 for customer service and product knowledge, and offer exceptionally low prices.
We carry products from all major brands, including 3G, Brunswick, Columbia 300, Dexter, DV8, Ebonite, Hammer, Motiv, Roto Grip, Storm, and Track. When you are shopping for bowling products, whether for yourself or for gifts, you can be sure that you will receive first quality products at the lowest prices.
Our friendly, experienced staff of real bowlers are knowledgeable in the products we offer and are always happy to answer any questions you may have. If you don't see what you're looking for on our website, be sure to contact us.
About 3G Men's Bowling Shoes
Whether you are a beginner or an expert bowler, you will need comfortable bowling shoes that provide a smooth, fluid, and fast glide/slide to prevent injury and improve your game.
3G manufactures men's bowling shoes that range from synthetic leather uppers to Kangaroo leather which will make you feel like you're bowling in your slippers! Removable heels and soles are available on several models. Their series of shoes include:
3G Tour Ultra Men's Bowling Shoes:  Tour Ultra shoes are made from the lightest and most durable leather available – kangaroo leather – that shapes to your feet for a perfect fit. Available in several colors, they come with an assortment of interchangeable soles, heels, cleats, and a replaceable DuPont Kevlar toe cap. They allow you to adjust your shoes rather than your game to suit the conditions of any approach.
3G Sport Ultra Men's Bowling Shoes:  Made with the same attention to detail as the Tour Ultra series, the 3G Sport Ultra series is made from highly durable and ultra-lightweight hand-tooled cowhide leather. If you're looking for style on the lanes, these are a great choice. They come with an assortment of interchangeable heels and soles that let you adjust the level of slide to the approach conditions, as well as a DuPont Kevlar rubber traction sole and toe cap.
3G Cruze Men's Bowling Shoes:  If you're accustomed to wearing house shoes, this affordable 3G series is a great way to step up your game. The sylish Cruze has a contemporary look, synthetic leather uppers, a soft mesh tong, and universal slide soles. They can be used by right and left-handed bowlers.
3G Kicks Men's Bowling Shoes: Another affordable option that can be used by right or left-handed bowlers, comfortable and stylish Kicks are built for fun and enjoyment. This shoe includes the standard universal slide sole for little slide and comfortable synthetic leather construction.
Tired of bowling in house shoes? Buy a pair of 3G men's bowling shoes from BowlerX.com. Give us a call at 844.269.5379 or contact us online to explore the wide range of products we offer.