Whether you are bowling casually or competing with your friends, the right type of 3G women's bowling shoes from BowlerX.com will give you an edge.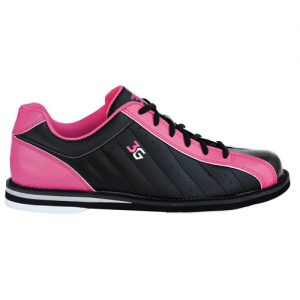 BowlerX.com is based in Bethlehem, Pennsylvania and rated #1 for customer service, product knowledge, and pricing. When you are shopping for bowling products, whether for yourself or for gifts, you can be sure that you will receive first quality products at the lowest prices.
We strive to maintain a large in-stock inventory. Of course, there are times when the most popular products will fly off the shelves, but, if we don't have it now, we will get it for you fast!
About 3G Women's Bowling Shoes
Whether you are a beginner or an expert bowler, you will need comfortable bowling shoes that provide a smooth, fluid, and fast glide/slide to prevent injury and improve your game.
3G manufactures women's bowling shoes that range from synthetic leather uppers to Kangaroo leather that will make you feel like you're bowling in your slippers! Removable heels and soles are available on several models. Their women's shoes include:
3G Kicks: For the casual or professional bowler and everyone in between, 3G Kicks are comfortable, lightweight, and durable. With universal soles and heels, they can be used by right-handed and left-handed bowlers. The shoes are made with synthetic leather uppers, a soft padded tongue, an interior lined with soft fabric to avoid friction and irritation, and circulation vents to keep your feet dry and cool. You'll find the shoes available in a variety of fun color choices. If you are looking for comfortable bowling shoes, 3G Kick are built for years of fun and enjoyment.
3G Sport Ultra:  Premium quality 3G Sport Ultra women's bowling shoes come with interchangeable soles and heels to adjust the level of slide to the approach conditions, making them both versatile and comfortable. They are built with ultra-light, yet highly durable hand-tooled cowhide leather, vented inner soles, Kevlar rubber traction soles, and DuPont Kevlar toe caps. Included are three soles (deer skin, back skin and chrome leather) and three heels (flat normal, rippled, and back skin). As with most of the 3G shoe line, you'll be able to choose from several stylish colors.
How Should Bowling Shoes Fit?
The fit of your bowling shoes should be similar to that of your regular shoes. Women's bowling shoes have a narrower fit than men's shoes. The width should be neither too tight or too loose. The length should be approximately half of your thumb's width at the end by your toes. When you have the shoe on your foot and tied, there should be a slight wrinkle in the leather when you run your thumb across the ball of your foot (the widest part), from left to right. Shoes that don't fit snugly can result in discomfort, pain, or worse, or you may slip and seriously injure yourself.
If you need more information about 3G women's bowling shoes or have other questions for our team, give BowlerX.com a call at 844.269.5379 or contact us online.