Visit the BowlerX.com website for 900 Global bowling ball bags and other bowling equipment and accessories for men, women and kids.
BowlerX.com is an authorized dealer for Brunswick, Columbia, Dexter, DV8, Ebonite, Hammer, Motiv, Roto Grip, Storm, Track, and other brands, and we stand behind every sale. We are rated #1 for customer service, product knowledge, and pricing. When you shop with us, you will receive first quality products at the lowest prices.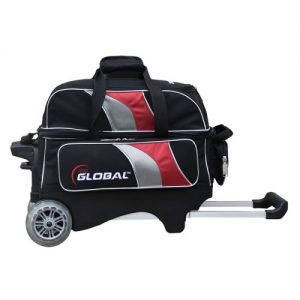 We offer:
High-quality bowling products at the lowest prices;
Products from all major brands
No seconds or blems;
Easy online ordering;
No hidden fees;
FREE standard ground shipping;
Simple return policy – no hassles, no questions asked;
Friendly, knowledgeable customer service.
About Bowling Bags & Totes
Bowling bags come in two styles – totes and rollers – and in many sizes. They are designed to accommodate from 1 to 6 bowling balls at a time.
At BowlerX.com, we offer single, double and triple tote bags that will hold only balls, as well as single, double and triple tote bags that will hold shoes and accessories as well. Totes are typically carried with one hand using handles or by means of a shoulder strap.
We also carry a large assortment of roller bags in 1-ball, 2-ball, 3-ball, 4-ball and 6-ball options. Roller bags enable you to easily pull the bag behind you as you walk in and out of the alley.
About 900 Global
900 Global, headquartered in San Antonio, Texas, manufactures performance bowling balls, durable bowling bags, and accessories, such as compression sleeves and dye-sublimated shirts. for every level of bowler, from amateur to professional.
At about the time Columbia 300 was purchased by Ebonite in 2007, 900 Global was formed by former Columbia 300 employees with many years of experience in the bowling gear industry. Their mission is to provide bowlers of all levels with unmatched quality, excellent customer service, and the highest performing products at unbeatable prices.
If you are looking for 900 Global bowling ball totes or rollers for yourself or as a gift for your favorite bowler, we encourage you to check out the selection at BowlerX.com.
When you need a durable 1-ball tote made from 600 Denier nylon material, the 900 Global 1-Ball Deluxe Single is a great choice. The easy-to-carry tote also holds one pair of shoes (up to size 12) and has plenty of room for accessories in an outside pocket.
Another popular choice is the 900 Global 3-Ball Deluxe Roller that features quad 5″ urethane wheels (the same easy-to-steer wheels you see on roller blades) to guarantee a smooth, balanced, and very quiet roll. The large shoe compartment holds up to size 15 shoes, and the bag features 1 large and 3 small accessory compartments.
Shop 24/7/365 at the BowlerX.com website for 900 Global bowling ball bags and other top-quality equipment from many other brands. If you need more information, give our team a call at 844.269.5379 or contact us online. Shipping is FAST and FREE!