Whether you're a professional bowler, a member of an amateur league, or a husband getting ready for date night, a proper bowling shirt can make a drastic difference in your game. BowlerX.com offers an impressive array of bowler shirts to leave you perfectly outfitted for your next outing to the lanes. We offer several quality brands including our own as well as 900 Global, Hammer, Brunswick, AMF, Radical, Roto Grip, and more. Look and feel the part to ensure that you make the strikes instead of striking out.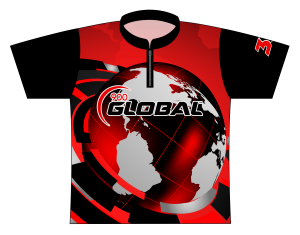 When ordering online, fit is always a factor. Buying from BowlerX,com doesn't have to be risky because we offer hassle-free returns and exchanges to ensure our bowlers have shirts that work for them.
We proudly enjoy a #1 rating related to our customer service, product knowledge, and pricing. Post-purchase, buyers enjoy a full 30 days to return the product for a full refund without fees or aggravations, but we do require that products are in new condition, original packaging, and shipped with double protection upon return.
The BowlerX,com team is passionate about bowling. We specialize in all types of bowling equipment, accessories, and clothing, and we're happy to provide assistance as you shop, especially if you're a novice looking for the right stuff to maximize your bowling experience. When you trust BowlerX,com, the online bowling superstore, in your quest for bowling gear, you're sure to come out a winner. Everything we do is for "the love of BOWLING."
Tips for Finding the Perfect Bowling Shirt
Fit Matters – A good bowler knows that a shirt must fit in such a way that the body can move comfortably without fabric hanging and impeding the release of the ball or the movement of the arm. The right bowling shirt for you will fit perfectly – neither too loose nor too tight. For this reason, online orders must be exchangeable. Shopping with us will ensure that you're never stuck with a shirt that's a mis-fit for your body.
Show Your Colors – Give the fans someone to cheer for with a team shirt! You'll stand out as a group, so you can find your friends in the crowd and enhance the fun of sport. It's common for leagues and teams to customize their shirts to increase the collegiality of the competition. You can even customize your shirts with fun nicknames given by teammates (or yourself, "TurkeyMaster").
The Comfort Factor – Bowling is a social experience as well as a sport. Play your best game by remaining comfortable. Choose cotton or another material that will keep you cool and ready to keep on bowling.
Dress Like the Pros – Just as you dress for the job you want rather than the one you have, dressing like a pro bowler will definitely affect the way you play as well as the experience you have. Self-actualization is a real phenomenon. When you're dressed to bowl, your game will reflect it. BowlerX offers several bowling shirt options dedicated to your favorite professional bowlers.
If you're ready to buy a BowlerX,com, 900 Global, or other branded bowling shirt, we offer online ordering, or you can give us a call at (844)269-5379. We'll be happy to help when you have questions about fit, wear, return policies, or orders. Our ultimate goal is to promote the past-time that we love!