When you are looking for an excellent selection of the best bowling bags, or have questions about sales and closeout bowling balls, bags, or bowling-related accessories, BowlerX.com can help.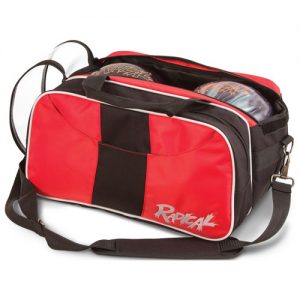 BowlerX.com is based in Bethlehem, Pennsylvania and rated #1 for customer service, product knowledge, and pricing. When you shop with us, you can be sure that you will receive top-of-the-line products from major brands such as Hammer, Brunswick, Columbia, Dexter, DV8, Ebonite, Lord Field, Motiv, Roto Grip, Storm, and Track, at excellent prices. 
We carry a wide range of must-have bowling equipment for everyone from new to professional bowlers. Choose from our huge selection of bowling balls, bowling bags, bowling gloves, bowling tape, towels, ball cleaners and polish, grip sacks, wrist braces and supports, and over 2,000 top-quality products at the lowest prices.
Some Customer Favorite Bowling Bags
Bowling bags are not just average sports bags. They need to be made out of extremely durable materials since some bowling balls can weigh as much as 16 pounds. Keeping that in mind, here are some of our customers' favorite bowling ball bags:
Ebonite. Founded in 1907 in Hopkinsville, Kentucky, Ebonite has continued to improve upon its brand and made a number of acquisitions within the industry. If you are looking for a bag that provides maximum convenience, consider the Ebonite Players 4-Ball Roller. It's made from a durable 840D/600D fabric and features a removable top bag that becomes a full-featured 2-ball tote. It also has multiple front and side accessory storage pockets.
Hammer. The Hammer brand signifies stability and durability. Hammer bowling bags are packed with features but remain affordable. Some bags have clear tops so you can readily see the contents. The largest bags are made from high-quality fabric and include urethane wheel construction for easy, smooth travel. If you are only planning on taking one ball to the alley the Hammer Plus One Single Tote will make a great choice. However, if you are more competitive you may want to go all out with the Hammer Diesel 4-Ball Inline Roller Bag.
KR Strikeforce. At its founding in 1968, the company was known as the Kimberly Rose Company and was rebranded in 1990 to focus on its bowling division. For beginners, the KR Strikeforce Rook Single Tote Bag is an excellent option and is available in bright colors. However, a favorite of BowlerX.com customers is the KR Strikeforce Cruiser Smooth Double Roller which holds two balls AND two pairs of shoes. Plus is features the KRuze urethane wheels.
Motiv. Today, Motiv is a full-blown manufacturer of bowling balls and bags with distinctive graphics technology. In 2012, their bowling balls won first place in every single performance category in a poll of highly competitive tournament bowlers. The Motiv Shock Single Tote Bag is constructed of heavy-duty 1680D polyester. It has two very large zippered pockets for shoe storage and extra room for your accessories. Or opt for the Motiv Vault Triple Roller bag which is also constructed of premium-quality materials.
For the best bowling bags and equipment from your favorite brands, visit BowlerX.com, where you'll find a huge selection of products. If you need help making a decision or need more information, give us a call at 844.269.5379, or reach out to us online.