Are you looking for a leg up on your bowling competition? If you've already found the perfect ball, come to BowlerX.com for the best bowling shoes for you.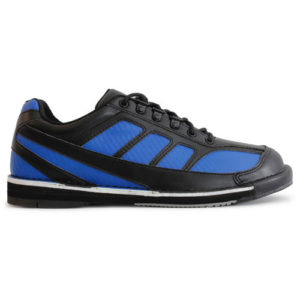 BowlerX.com is a trustworthy leader in online retail sales of all sorts of bowling merchandise. We're authorized to sell all of the major brands, and we offer a wide variety of product types and brands – all at the lowest possible prices. Additionally, we offer free shipping and have a convenient return policy. You can't go wrong by choosing BowlerX.com for all of your bowling equipment and supplies.
Bowling Shoe Brands
Coming to BowlerX.com for bowling shoes is the right choice. We're an authorized dealer for all of the following bowling shoe brands:
3G
Brunswick
Dexter
Hammer
KR Strikeforce
Storm
BowlerX.com even offers custom designed high-performance bowling shoes. You can design your own bowling shoes with the help of our artists. Describe what you like, and we'll get your approval before production. Imagine the impression you'll make with your one-of-a-kind design and the performance to match!
Left-hand dominant bowlers should consider investing in left-handed performance bowling shoes. We sell several brands and colors for your consideration. The improvement to your control can't be underestimated for performance when equipment is designed for your body's functioning.
We offer unisex, men's, women's, and kid's bowling shoes, and we focus on high-quality and low costs. At BowlerX.com, you always find first runs, not seconds or blems. From beginner to professional, we offer the right shoe for every level of bowler.
One of your top considerations when choosing bowling shoes will be the amount of slide you prefer. A bowling shoe with a flat bottom allows for a small amount of slide while one with a raised heel allows for a bit more. Bowlers who prefer complete control of the amount of slide can buy shoes with interchangeable heels and soles.
The best part of shopping with BowlerX.com is the variety we offer. The catalog of products we offer will satisfy every color and style preference, budget, and technical need. When what you buy isn't what you need, return it. We simply ask that you return the shoes unused and double bagged or boxed for the return trip.
Complementary Purchases
When you invest in your bowling game with a newly purchased pair of bowling shoes, you should pair that purchase with a few more buys.
A bag to carry and protect your bowling shoes is a must. Your bag design can speak as loudly as your throw with your preferred style, graphics, and color. We offer high-quality bags that will pair well with your bowling ball bag, keeping your shoes clean and protected.
Shoe covers also protect your investment. While bowing, you can walk to the restroom, concessions, or other areas without messing up game play by transferring debris to your soles. When your bowling shoes do get dirty, have a shoe brush handy. A few wipes will have you in slide control just in time for your turn at the pins.
For more information about finding, selecting, and buying the best bowling shoes for your game, reach out to the team at BowlerX.com. We're ready online or by phone at (844) 269-5379 to help make your game better.