Real bowlers need quality gear for the game, and BowlerX.com proves to be the best place to buy bowling balls, bags, and other accessories online. Rated first in customer service, informed sales, and low pricing, we're fully stocked with 2,000+ separate items including every single piece you'll need to pursue your passion for the sport.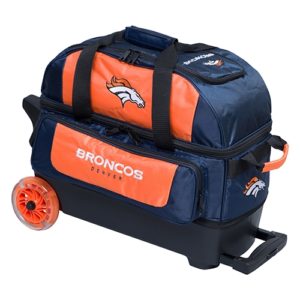 The sport of bowling has a long and ever-changing history. As the rules and implements have changed, the game has broadened to become a sport and social activity that welcomes all comers.
First Comes Shoes
Bowling shoes are an essential element of the game in order for bowlers to remain safe and play well. A pair of bowling shoes have unique soles; one slides, and the other brakes. This pairing keeps bowlers from slipping on the surface of an oiled bowling lane. Renting shoes at the lanes is fairly common, but serious bowlers prefer buying their own for the ultimate in comfort, not to mention hygiene.
Remember the Bowling Ball
Having a personal bowling ball allows bowlers to enjoy a better hold with custom-drilled holes along with an increased consistency in performance and weight. Using the house balls at the bowling lanes is entirely reasonable for occasional bowlers, but if your interest inspires regular play, a bowling ball of your own should be one of the first investments you make.
Choose Additional Bowling Gear
BowlerX.com provides an assortment of bowling gear meant to improve the comfort and performance of all bowlers, from beginners to professionals. Some of the accessories we offer include the following:
Wrist guards – designed to keep the wrist in line and the throw consistent
Finger tapes, grips, and slugs – used to prevent injury during ball release and to improve grip
Powder – control moisture and include grip
Ankle, wrist, elbow bend – gentle shock absorbers that reduce injuries caused by repetitive motions
Microfiber towel – the nature of bowling balls encourages the absorption of oil, but bowlers can limit the buildup by cleaning their balls after every pass down the lanes.
Bowling bags – the bowler who is fully prepared with bowling ball(s) and gear will require a method to transport it all. Bowling balls come as totes or rolling baggage.
Bowling attire – nothing says bowling quite as clearly as the bowling shirt. The classic bowling button-down has evolved into more of a T-shirt style made from wicking material. BowlerX.com offers a plethora of options as well as custom options including adding names.
Bowling shoe sliders or shoe insoles – prevents bowlers from sliding and enhances form and performance
Ball ball cleaners, polishes, refinishers – maintain your bowling ball investment
Bowling ball spinners – spins bowling balls for refinishing
Come to BowlerX.com for your bowling implements. We're family-owned and have the goal of spreading the love of bowling. We're authorized to sell all the top bowling brands, and we offer low prices, free shipping, and easy returns. We don't sell seconds or blems – only the best bowling goods come from BowlerX.com. Low prices don't mean low quality here.
The best place to buy bowling gear online is BowlerX.com. Reach out to us online for guidance while you shop or to place an order at any time on the clock or day on the calendar. You can also call (844) 269-5379.