Visit the BowlerX.com website and shop 24/7 for bowling ball bags and other equipment we have for sale. We offer exceptional prices and FREE shipping!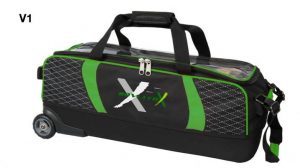 BowlerX.com is the online bowling superstore. We are based in Bethlehem, Pennsylvania and are rated #1 for customer service, product knowledge, and pricing. We are an authorized dealer for all of the brands we sell and will stand behind every sale. We offer:
Unique high-quality bowling products at the lowest prices;
No seconds or blems;
Easy online ordering;
FREE standard shipping;
No hidden fees;
Simple return policy – no hassles, no questions asked;
Friendly, knowledgeable customer service.
Choosing a Bowling Bag
Bowling ball bags are a great way to carry around equipment and accessories to practice or league night. Choose a bag or tote that holds only one ball, a 6-ball roller that holds six bowling balls, or something in between.
A beginner may only have one ball, a pair of shoes and minimal accessories, so a simple one ball tote bag would be perfect. A more advanced player might have 3 balls, shoes, a towel, and a grip bag, and would probably love a 3-ball roller with shoe storage and extra compartments.
Bowling Bag Types
There are two different types of bowling bag – a bag that can be carried or a bag with wheels that can be rolled. Make your choice based on how much equipment you typically carry around.
Roller Bowling Bags: These bags have wheels that let you pull the bag behind you when you walk in and out of the bowling center. A 3-ball roller bag is one of the most common options, but 1-ball, 2-ball, and 4-ball rolling bags are also popular.
Tote Bowling Bags: These bags usually have handles and shoulder straps and are meant to be carried by hand. They are typically designed for only one or two balls because more balls in one bag will make them too heavy to carry for the average person.
Wheeled totes, however, can carry more balls and are a great choice when you need to carry the bag upstairs or across unpaved parking lots on a regular basis. They are also very convenient for airline travel. Most tote-style bags are considered as carry-on baggage, while roller bags are always considered luggage and need to be checked.
Our BowlerX triple totes are made of 840D/1680D fabric, the highest quality materials. They feature an EVA lightweight molded base, rugged 3-inch in-line skate wheels, premium YKK luggage zippers, pick-up handles and an adjustable tow strap, and a clear "see-thru" top design with our BowlerX.com logo.
Bowling Bag Add-Ons
BowlerX.com also carries convenient bowling bag add-ons. Our customers appreciate the wide variety of accessories we carry, but bowling shoe bags in different styles, sizes, and colors are among their favorites. It's important to keep your bowling shoes clean to ensure a consistent slide. Protect them with a bag that may even clip on to your tote bag.
If your bowling bag or tote simply doesn't have enough room to carry all of your balls, consider a Joey. It's a bag that slips over the retracting handle of your roller bag and holds the ball in place.
Are you looking for top-of-the-line, heavy duty bowling ball bags that can stash all your gear? Look no further than BowlerX.com for the best selection and prices. We encourage you to call us at 844.269.5379 or contact us online.