It happens to all of us. The one thing you need to put your hands on quickly is lost at the bottom of your bag. Bowling ball accessory bags from BowlerX.com are an awesome solution and will give you easy access to your tools and accessories.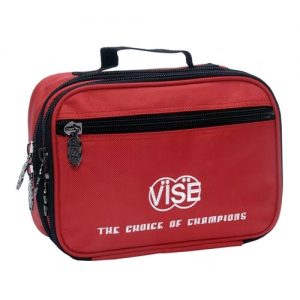 BowlerX.com is the online bowling superstore. We are based in Bethlehem, Pennsylvania, are rated #1 for customer service and product knowledge, and offer exceptionally low prices.
We carry products from all major brands, including Brunswick, Columbia 300, Dexter, DV8, Ebonite, Hammer, Motiv, Roto Grip, Storm, and Track. When you are shopping for bowling products, whether for yourself or for gifts, you can be sure that you will receive first quality products at the lowest prices.
Space for All Your Stuff
Whether you're headed to practice or a tournament, wouldn't it be nice to find your small accessories and tools at your fingertips when you need them instead of wasting time searching through your bag for them? Bowling accessory bags are the answer!
Accessory bags like those from Brunswick, Ebonite, DV8, Radical, Motiv, Storm, Vise, and other brands, make it easy to stay organized and are an excellent choice for all bowlers, from beginners to pros.
Bowling accessory bags are durable and roomy.  Some have separate zippered interior mesh pockets that will keep your accessories visible and protected. Some incorporate plastic retaining straps to keep your tools in place, and often have handles or carry straps.
Customers will find these bags ideal for storing athletic tape, thumb tape, extra inserts, rosin bags, bowling gloves, super glue, rasp, bevel knife, pens and pencils, workout tools, and more, with room to spare.
Looking for Bowling Bags or Accessories?
Bowling accessory bags are a great compliment to everything from bowling backpacks, bowling ball totes, and wheeled bowling bags. Carry your gear around in style with one of our best-selling bowling bags in 1-ball, 2-ball and 3-ball totes, as well as in roller styles that can handle up to 6 balls at once. Sports fans will also appreciate our selection of MLB, NHL and NFL totes and rollers.
BowlerX.com also carries a wide range of must-have bowling accessories for new and seasoned bowlers. Choose bowling gloves, bowling tape, a bowling towel to keep hands dry and clean dirt or lane oil off the ball surface, ball cleaners and polishes, grip sacks, wrist braces and supports, and a wide range of other items.
Tired of fishing for items that always seem to be lost at the bottom of your bowling bag? Organize your gear in style with bowling ball accessory bags from BowlerX.com. Give us a call at 844.269.5379 or contact us online to explore the wide range of products we offer.