Looking for bowling ball backpacks? BowlerX.com offers exceptional prices and FREE shipping!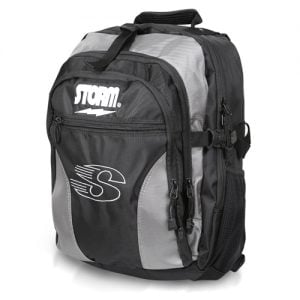 In addition to bowling ball backpacks, totes, and wheeled bags, BowlerX.com is an authorized dealer for AMF, Brunswick, Columbia, DV8, Ebonite, Hammer, Motiv, Radical, Roto Grip, Storm, Track, and other brands. We stand behind every sale. We are rated #1 for customer service, product knowledge and pricing. When you shop with us, you will receive first quality products at the lowest prices.
We also carry a wide range of must-have bowling equipment for everyone from new to professional bowlers. Choose from our huge selection of bowling balls, bowling gloves, bowling tape, towels, ball cleaners and polish, grip sacks, wrist braces and supports, and many other products.
About Bowling Backpacks
If you already have a bag for your bowling ball but are looking for a way to make it easier to get all of your bowling gear to the lanes, consider a bowling backpack. They are designed to carry everything you need to carry except for your bowling ball.
With comfortable padded shoulder straps and multiple pockets, they are ideal for carrying your bowling shoes, towels, tape, water bottles, cell phones, keys, snacks, a laptop, and anything else you can't live without (except for the ball). They can be especially handy during tournaments, making it easier to switch lanes without moving everything at once.
Need a Bowling Ball Tote or Roller Bag?
Bowling ball bags are a great way to carry around equipment and accessories to practice or league night. Choose a bag or tote that holds only one ball, a 6-ball roller that holds six bowling balls, or something in between.
A newbie bowler may only have one ball, a pair of shoes, and few accessories, so a simple 1-ball tote bag would be ideal. A more experienced player might have 3 balls, shoes, a towel, and a grip bag, and would probably appreciate a 3-ball roller with shoe storage and extra compartments.  Choose from:
Tote Bags: These bags usually have handles and shoulder straps and are meant to be carried by hand. They are typically designed for only one or two balls because more balls in one bag will make them too heavy to carry for the average person.
Roller Bags: These bags have wheels that enable you to pull the bag behind you when you walk in and out of the bowling center. A 3-ball roller bag is one of the most common options, but 1-ball and 2-ball rolling bags are popular as well.
For bowling ball backpacks from top brands, visit BowlerX.com, where you'll find a huge selection of products.  If you need help making a decision or need more information about any of the products we sell, give us a call at 844.269.5379 or contact us online.