If you're in the market for bowling ball bags for 2 balls, BowlerX.com has a wide assortment of quality options. Whether you prefer roller or tote style, we have you covered.
Bags Are Essential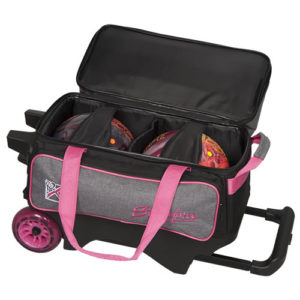 Whether you regularly carry one bowling ball or six, the bowling bag that you choose can range from a simple sling bag to a highly functional bag with room for all of your balls as well as your various bowling accessories. Ultimately, the bag that you choose should meet your needs while working with your style.
Strength Is Essential
Bowling bags must be strong. They regularly carry significant weight, so the bottom and the handle should be sturdy, durable, and up to the job. When you walk into the lanes, carry the tools of your sport with effortless ease by having a bowling ball bag that you can rely on to perform.
Roller Bag Convenience
Many bowling bags simply must be on rollers due to the weight of what the bag is meant to carry. Bowlers who carry two balls at a time can definitely benefit from having rolling carriers as well. Your back will thank you!
When considering roller bowling bags, evaluate the quality of the materials used. The framing, zippers, materials, and inner lining should all be sturdy and well made.
Pack It Along
When preparing to pack your bowling bag for your next bowling adventure, you'll need to carry a few items along. The range of accessories you take depend on various factors, primarily how seriously you take the sport of bowling.
The more seriously you take your bowling game, the more likely you'll be to carry numerous items within your bag. Let's play a game of what's in your bag with a hypothetical serious bowler!
Item #1: Microfiber cloth
Wiping oil and debris from your bowling ball after every pass down the lanes will improve your game and make your ball finish last longer!
Item #2: Tape and Finger Grips
Bowling tape used on the fingers allows for adjustment if they swell or shrink while bowling to make sure that the hold is as perfect as possible.
Item #3: Bowling Shoes
The right pair of bowling shoes is ideal for your game. The right balance of slide and stop is essential to form.
Item #4: Fresh Socks
Every bowler should have a change of socks in his or her bag. Sweaty feet are uncomfortable and unpleasant.
Item #5: Ball Cleaning Product
Cleaning your ball may become necessary following a game. Keep in mind that if you bowl in a league or tournament, you can not put anything on the ball before the game. Also, if taking a flight, any cleaning liquid will violate TSA guidelines and be discarded.
Item #6: Emergency Kit
Stuff happens, so be prepared. For bowlers, preparation means having nail clippers, extra shoelaces, bandaids, and other small items you might need in a pinch.
BowlerX.com is a great source for your bowling needs. We consider ourselves the online bowling superstore and have a top rating for customer support, prices, and product knowledge.
If your bowling game focuses on using 2 primary balls, shop BowlerX.com for ball bags. Free shipping, hassle-free returns, and low prices make our service the best around. Learn more by checking us out online or calling (844) 269-5379.