When your bowling game evolves into the sort that requires 3 balls, you'll need to invest in sturdy, durable bowling ball bags for them. Your game-winning balls deserve the protection a good bag brings, and your back deserves a well-designed bag for easy maneuverability. Base your choice on form and function when selecting a bag, and make your purchase from BowlerX.com. We offer plenty of options from the best bowling brands in the business.
Why BowlerX.com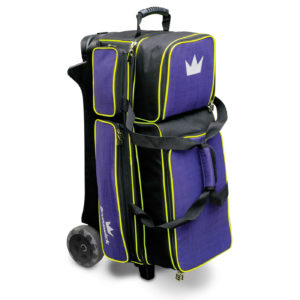 BowlerX.com is top-rated in customer service, bowling and product knowledge, and low pricing. As the online bowling superstore, we're an authorized dealer for all of the best bowling brands, and we provide hassle-free returns and free shipping. You can't go wrong when you buy from us because we make it easy to ask questions and return products that aren't as you hoped they would be.
How to Shop for Bowling Ball Bags
A bag that conveys the right message and functions appropriately is as important to a bowler as the bowling ball he or she chooses. The right bowling ball will hold all of the products you consider essential to your game.
Just any bag won't substitute for a bowling ball bag. You truly need a bowling ball bag meant to be used to protect balls and hold a variety of related products. Plenty of options offer separate compartments for everything from your microfiber towel to your bowling shoes and more. Consider the weight and shape of the cargo and plan to purchase an appropriate bag for your bowling balls.
Three-Ball Bowling Bags
When your bowling game graduates to three ball play, your bowling bag will need an upgrade as well. The best three ball bags are roller and tote combinations.
Consider a Few of the Popular Choices:
Storm Streamline 3 Ball Roller Bag
Storm 3 Ball Triple Tournament Tote
Vise Clear Top Triple Bowling Ball Tote
Motiv Ballistix Black/Grey/Lime Triple Tote
Motiv Ballistix Triple Tote Black/Orange
Motiv Vault Triple Roller Black/Orange
Storm 3 Ball Triple Tournament Tote Red
Many, many more
Elements to Factor in to the Purchase
Accessory Capacity
As your approach to bowling becomes more serious, the number of items you typically pack for use grows. The right bowling ball bag will be able to accommodate all three of your balls and have multiple compartments for any accessories you might need.
Tote vs. Roller
Whether your bowling bag has wheels and the kind of wheels it has will also be up for debate. Most 3-ball bowling bags can function as both a tote and a roller bag, but not all. Your personal preference and strength will dictate this choice.
Bowling Bag Brand
Brand loyalty is a real thing. Whether it's shoes, food items, or bowling supplies, brand matters to some. Most of us are savvy enough to realize that brand doesn't always equal good quality, so as you shop, you should be aware that you will pay a premium for the name. You should also do your due diligence of verifying quality.
If you've been looking around for bowling ball bags for your 3 favorite balls, BowlerX.com provides name-brand, quality products at affordable prices. Browse our catalog online and feel free to call (844) 269-5379 to learn more about any of our fantastic bowling products.