As you shop around for bowling ball bags for 4 balls, you'll find terrific options at cost-effective rates with BowlerX.com.
To Tote or to Roll
Tote bowling bags generally max out at a two bowling ball capacity. Conceivably you could put two per bag and lug two bowling bags around, but that would be somewhat ridiculous. Many newer bags are combining the two styles and adding sturdy wheels to a padded strapped tote bag for a combo style.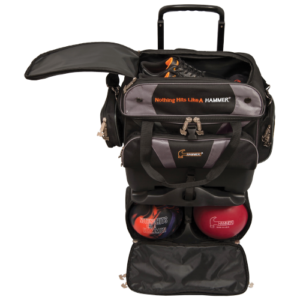 Roller bowling ball bags are wheeled for easier transport with a handle to drag the bag behind as you walk. A four-ball bowling bag will ideally be a roller bag since it can handle the mass and weight of four bowling balls. It can also organize the various bowling accessories you need.
Instead of separating your balls into multiple bags in order to carry all of your gear, invest in a high quality, strong four-bowling ball roller bag.
Prioritize Strength
When buying a bowling ball bag, what matters most is the strength of the materials. Most bowling ball bags are made of either polyester or nylon. Nylon tends to be stronger and last longer, so by choosing thick nylon, your investment will go further.
The brand can give some indication of quality. Most successful bowling brands have a commitment to customer's satisfaction, which comes from strength and durability. The seams, wheels, and handle should all be of the best quality for a lifetime of appropriate function. When you buy from BowlerX.com, you can be sure of quality, and with specific questions, our reps are always happy to advise while shopping.
Consider Compartments for Accessories
Being able to organize the bowling equipment you need to improve your game is important when considering the available bowling ball bags. Places to stash your wiping towel, tape, clippers, shoes, and other bowling supplies make quite a difference in limiting the stress connected to your performance.
Achieve the Look
As you consider the size, style, and organizational features of the bowling ball bag, remember that aesthetic. Just as with your bowling shirt, shoes, and ball, the appearance you convey can intimidate your competition and inspire a few fans.
Multi-Purpose Potential
If you're not a professional bowler, you'll likely want to use your bowling bag for more than carting around bowling supplies. A tough, rolling bag with plenty of organizational potential will be great for traveling as well.
Shop with Us
The online bowling superstore, BowlerX.com, is top-rated for its customer service, informed shopping assistance, and can't be beaten prices. We sell first-run, name brand goods rather than seconds or blemished products.
We have an inventory consisting of more than 2,000 distinct products and provide free shipping paired with hassle-free returns. If you're ever disappointed with a product you purchase from us, all that we ask is you return it in new condition and double packaged for protection. Our goal is always to spread the love of bowling far and wide, and we accomplish this goal by satisfying every customer we service.
BowlerX.com  provides a wealth of inventory, knowledge, and customer support. You can order online or by calling (844) 269-5379 to secure the perfect bowling ball bags for your favorite 4 bowling balls based upon your particular needs.