Finding the right bowling ball bags with wheels is necessary if you intend to do any serious bowling. When it comes to selection and quality, BowlerX.com has everything you need!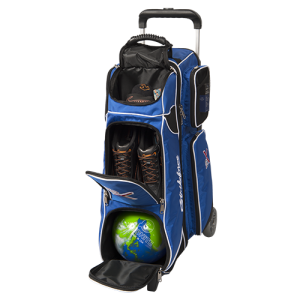 Since 2008, customers have trusted BowlerX.com as one of the largest online bowling retailers in the US. And, they have rated us #1 for pricing, product knowledge, and customer service. As an authorized dealer for all the brands we offer, we stand behind every sale. You can be certain that when you buy from us you will receive first quality products at the lowest prices.
We carry bowling balls, bowling shoes, bowling bags, and bowling accessories from the major brands like Brunswick, Columbia, Dexter, DV8, Ebonite, Hammer, KR Strikeforce, Motiv, Radical, Roto Grip, Storm, Track, Vise, and many others. If you love free shipping and low prices, look no further than BowlerX.com!
Choosing a Bowling Bag
Bowling ball bags are an excellent way to transport your equipment and accessories to league night or practice. You have the option to choose a bag that holds one ball or six balls, or something in between.
Since a beginner may only have one ball, a pair of shoes, and minimal accessories, a simple single ball roller bag will be perfect. However, the more advanced you become in the sport, the more room you will need, because the better you are, the more balls you will carry. 
Top Selling 1 Ball Roller Bags
For those of you just getting started, a 1-ball roller bag will be just fine. Here are the top selling bags that fit that description:
For Kids: The Ebonite Eclipse Single Roller will readily accommodate up to size 13 shoes and accessories. Plus, it comes with a 5-year manufacturer's warranty.
For Women: The bold and stylish pink and black Storm 1-Ball Rascal Single Roller Bowling bag is a top choice. With easy-glide wheels, large reinforced zippers, telescopic handle, and a shoe compartment that will hold up to a size 15, this is ideal.
For Men: The Columbia 300 Icon Single Ball Roller comes in a variety of colors and is a great mid-priced option. It includes a vented shoe compartment that will hold up to size 15 shoes, and a locking handle that extends to 39-inches. Plus, there's a large pocket for accessories and large EVA foam/PP Spyder wheels for a smooth, quiet ride.
Customers' Favorite 6 Ball Roller Bags
To go from one extreme to the next, those of you who are advanced bowlers, will recognize the value of having a considerably larger roller bag for all your balls and accessories. Here are some of our customer favorites:
Storm Rolling Thunder 6 Ball Bag: You will note no shortage of high-end features with this bag. It is constructed of 600D polyvinyl fabric with reinforced stitching and zippers. With a front-loading base and a side loading mid-section, this bag provides easy access to all your equipment.
Hammer 6 Ball Premium Roller Bag: Includes a removable top bag that becomes a full-featured 2 ball tote. The handle extends to 51 inches, and the large 5 inch Smooth KRuze urethane wheels and wheel bearings ensure you enjoy an ultra-smooth and quiet ride.
Although we only mentioned two types of bowling ball bags with wheels, we sell all sizes of totes and roller bags. When you need help making a decision, BowlerX.com is the place to go. Give our experts a call at 844.269.5379 or contact us online.