If you are looking for ideas for bowling related Christmas gifts for the men, women or kids on your shopping list, BowlerX.com can help. We have some great products for your bowling friends and family as well as products that will introduce someone to the game.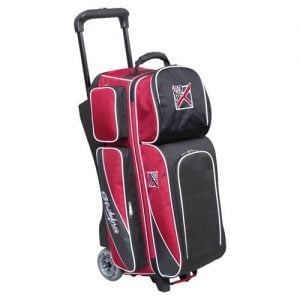 BowlerX.com is the online bowling superstore. We are based in Bethlehem, Pennsylvania and are rated #1 for friendly customer service, product knowledge and pricing. When shopping for bowling products, you can be sure that you will receive first quality products at the lowest prices.
Stocking Stuffer Ideas
Not only are bowling accessories designed to help bowlers improve their performances, they also make terrific stocking stuffers!
BowlerX.com carries a wide range of must-have bowling accessories for everyone from new to professional bowlers. Choose bowling gloves, bowling tape, a bowling towel, ball cleaners and polish, grip sacks, wrist braces and supports, and a wide range of other accessory items.
A few of the most popular items include the Motiv See Saw ball holder that provides maximum protection during transport in bowling bags or when stored in a locker, and the Hammer Bowling Shoe Covers that protect bowling shoes from moisture, gum and food, inside and outside of the bowling center.
Bowling Apparel
Every bowler on your list will enjoy looking their best the next time they hit the lanes when you purchase apparel for them from BowlerX.com.
We offer a wide variety of bowling shirts, including everything from t-shirts to dye-sublimation products. Dye sublimation is a printing process that yields beautiful, permanent colors that are embedded in the fabric instead of printed on the surface. Patterns and images on the fabric won't fade or crack even after multiple washings.
Also consider our exclusive BowlerX.com Silver Mirrored Logo T-Shirt, which is comfortable, moisture wicking, static resistant and will not shrink, and the BowlerX.com Dye Sublimated Breast Cancer Bowling Shirt which is custom made to order just for your recipient. Names can be added to the back of the shirt at NO extra charge.
Bowling Bags
Every bowler needs a bowling bag to carry around his or her ball, shoes, and other gear, so they make excellent Christmas gifts. We offer bags in single, double and triple totes, and roller styles that can handle up to 6 balls at once. Here are a few ideas:
For men: If your husband, son, Dad or boyfriend is a sports fan, he would probably appreciate the Chicago Cubs World Series Single Tote or the New York Yankees Single Tote, both of which have room for shoes and accessories.
For women: If your wife, daughter, Mom or girlfriend is more than just an occasional bowler, she would probably love a 3-ball roller with shoe storage and extra compartments, such as the Brunswick Edge Triple Roller Bag.
For kids: The young bowler on your list may enjoy the Ebonite Eclipse Single Roller which will accommodate up to size 13 shoes and accessories and comes with a 5-year manufacturer's warranty.
Gift Certificates
If you simply can't decide what to get, choose a BowlerX.com gift certificate in denominations of $25, $50, $100, $150, $200 and $500. They can be redeemed directly on the website. Certificates can be delivered by mail or emailed directly to the recipient along with a custom message from you.
While shopping for bowling Christmas gifts at BowlerX.com, keep in mind that every item we sell features fast free shipping, no hidden fees, and the lowest prices. If you would like more information about any of our products, give us a call at 844.269.5379 or contact us online.