The perfect Christmas gifts for bowling aficionados are right here at BowlerX.com. We will make one name on your list easy to cross off.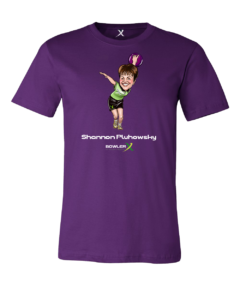 The online bowling superstore, BowlerX.com, is rated first in customer support, low prices, and knowledgeable professionals. As an authorized dealer for all the major brands, you'll have no trouble finding any bowling-related product you need.
BowlerX.com provides high-quality, first run products; we don't stock seconds or blems. The online ordering system is simple, and standard shipping is free. You won't face any hidden fees or difficulty returning a product if you're dissatisfied.
For the Bowler Who Has It All
If the bowler you're shopping for is already well-stocked in the bowling department, it's difficult to identify a gap that you can fill. Why not pick up a BowlerX.com gift certificate? We offer a range of options from as little as $25 to $500. You can choose whether to receive the gift certificate in the mail or via email.
For the Home-Town Bowler
If your office buddy, secret Santa recipient, or other $20 slot on your gift list, consider a home state bowling T-shirt. It's comfortable, patriotic, locally loyal, and a clear signal of bowling love. These T-shirts are available in several colors and in sizes Small through 4x.
For the Beginning Bowler
A plastic/polyester custom designed bowling ball is perfect and thoughtful for a beginning bowler. You can add a humorous or significant logo, design, or photo, and this Christmas gift will be impossible to misplace at the lanes. This bowling ball option is an excellent option for picking up the spare and making a statement on the lanes.
For the Serious Bowler
Bowlers who frequent the lanes frequently and use multiple balls could use a new roller bowling bag. The bag options can handle up to six bowling balls at a time, and you can choose one with several compartments to hold the accessories he or she generally uses. Make sure that this bag is sturdy and well made to last.
Bowling fanatics might also like a brand new high performance bowling ball. BowlerX.com frequently offers the newest bowling balls available, often before they're even released. Pre-order the brand new wonder ball from his or her favorite brand for a fantastic Christmas surprise.
For All Bowling Lovers
A bowling caricature of the intended recipient is as easy as uploading a photo to BowlerX.com and ordering it online. This gift will be created by the same artist responsible for the staff caricatures at BowlerX.com. This personalized artwork would look terrific in a study, office, or game room and is a thoughtful gift that will be long appreciated.
For the Informed Bowler
Does the bowler on your Christmas list enjoy learning about the sport? BowlerX.com offers several books and videos including:
Earl: The Greatest Bowler of All Time
The System DVD by Mark Baker
Stone 8 by Len Nicholson
Bowling: Energy in Motion by josh Blanchard
End Games – The Complete Bowling Guide
Whether you're shopping for Christmas gifts for bowling fans with a sense of humor, a love of learning, or a bowling ball addiction, you will find plenty of options here at BowlerX.com. For assistance while shopping or ordering, contact us online or by phone at (844) 269-5379.