Is there a child who is not entertained by watching heavy objects crash into things, or by silly shoes, lots of noise, and snack bars? Bowling can be enjoyed at any age, and the staff at BowlerX.com has suggestions for some great gifts that will help them improve their game.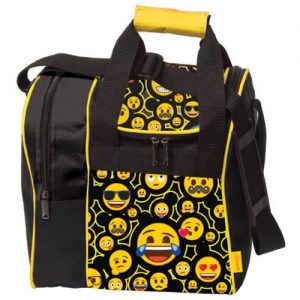 BowlerX.com, the online bowling superstore, is rated #1 for customer service, product knowledge and pricing. We are a family owned bowling supply business and pro shop based in Bethlehem, PA.
We are an authorized dealer for all of the brands we offer and will stand behind every sale. Our friendly, experienced staff of real bowlers are knowledgeable in the products we offer and are always happy to answer any questions you may have.
Bowling Balls for Kids
Bowling balls come in a range of weights, from 6 to 16 pounds. Every child is different, but there are two main rules of thumb for choosing the right sized ball:
One option is to choose a ball weight that matches their age. For example, choose a 6-pound ball for a 6 or 7-year-old child, a 10-pound ball for a 10 or 11-year-old child, and so on. Slight adjustments in weight may be necessary, but this is a good guide to follow.
Another option is to allow one pound for each 10 pounds of body weight, so, if a child weighs 84 pounds, for example, an eight-pound ball might be perfect.
Bowling Bags for Kids
Help your bowler carry around his or her gear in style with one of our best-selling bowling bags from brands like KR Strikeforce, Brunswick, Hammer, Radical, Roto Grip and Storm. A single roller bag in the Columbia 300 Icon series will accommodate up to size 15 shoes and accessories. Sports fans will also appreciate our selection of MLB, NHL and NFL totes and rollers.
Bowling Shoes for Kids
BowlerX.com carries a complete line of bowling shoes for kids and youth, from entry level to pro performance interchangeable sole/heel shoes. Customer favorites are KR Kid's Flyer Bowling Shoes that feature Komfort-Fit™ construction, and the extremely comfortable black and neon green Brunswick Renegade Youth Bowling Shoes.
BowlerX.com Gift Certificates
BowlerX.com gift certificates are a terrific gift for anyone who loves the game. They are also the perfect way to introduce a friend or family member to the sport. Unless your child sent you their bowling wish list, a gift certificate will let them choose exactly what they want, when they want it.
Our gift certificates are available in denominations of $25, $50, $100, $150, $200 and $500, and can be redeemed directly on our website. Certificates can be delivered by mail or emailed directly to your recipient along with a custom message from you.
Visit the BowlerX.com website 24/7 for bowling gifts for men, women and kids. When you need help making a decision or need more information, give us a call at 844.269.5379 or contact us online.