You might not be familiar with bowling grips and slugs, but they can really elevate your game to a level you might not have thought possible. A BowlerX representative can let you know exactly what types of grips and slugs are right for you, and get them to you quickly and efficiently. You'll see a major difference in your grip and in your performance.
Bowling Slugs – The Basics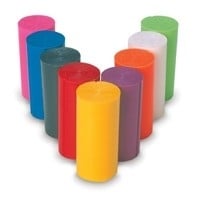 The thumb slug is typically made of urethane or vinyl that, as the name implies, goes into the thumb hole of a bowling ball. They're made in different sizes, so it's pretty easy to find one that's a perfect fit. As always, if you have any questions a BowlerX representative will be glad to answer them.
Slugs go by different names, such as solids and inserts. Whatever you call them, they have helped a lot of bowlers of all skill levels.
There are a lot of different materials used to make a bowling ball. These materials form layers, such as the weight block, the core and the coverstock. All of these layers have different densities and textures. When you buy a ball and have your holes sized and drilled, some of these textures are exposed in the process. That can be uncomfortable – even though the hole might be the right size, it might still feel odd when you insert your thumb.
As a result, you might have trouble finding a comfortable release point, and you might throw the ball inconsistently. That, of course, can lead to erratic scores.
For many bowlers, a thumb slug is the answer to that feeling. It can be very difficult to sand the thumb hole in a way that feels perfect. Using a slug is much easier, and will make you feel much more comfortable.
A Wide Range of Choices
BowlerX carries several different types of thumb slugs from some of the sport's leading names in bowling accessories, including Vise, Turbo and many others. Here are just a couple of options we carry.
Urethane thumb slugs – Urethane thumb slugs are very easy to fit, and also come on many different sizes and colors. You'll get clean, quick release every time and you'll never have any issues with comfort.

Vinyl thumb slugs – Vinyl slugs are extremely soft, and will also provide a quick, consistent release each time you throw the ball.

Contact BowlerX for More Information
If you're in the market for bowling grips and slugs, we hope you make BowlerX your source. We carry more than 2,000 different bowling products, such as balls, bags, shoes, cleaners, polishers, shirts and many, many others. All of our staff members truly love the game of bowling, and have a deep knowledge of everything we sell. When you buy from us, you can rest assured you'll be getting the best quality at an affordable price. Even better, we stand by each and every item we carry on our website.
We do everything we can to make sure we keep a consistent amount of inventory in stock. There are, however, times where our products will sell out before we can replenish them. If you happen to want something we don't have at that specific time, don't worry. We'll be able to get it to you in between 1-3 days in the vast majority of cases. If you'd like to learn more about us, contact us online or call 844.269.5379.