Who says you have to go to a department store to find great-looking bowling shirts? BowlerX has a great selection of stylish shirts that will turn heads the next time you head to your favorite bowling alley. If the shirts you purchase don't fit you perfectly, just get in touch with us. We'll make an exchange at not cost – we'll even pay for your shipping when you return the shirt.
Experience the BowlerX Difference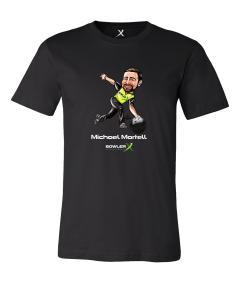 BowlerX is the nation's leading provider of not only shirts, but a host of other products related to the great game of bowling. We have shoes, bags, balls, towels and much, much more – all of them made by the most trusted names in the sport. No matter what you buy from us, we want to make sure you're completely satisfied.
If you're not happy with the item you purchase – for whatever reason – just send it back to us within 30 days. Just put them back in their original packaging if possible and make sure you don't use them. We also ask that you double bag or double box when shipping the items back to us, just to make sure they stay protected.
Every BowlerX staff member shares your passion for bowling. Whether you're buying bowling shirts, shoes, balls or anything else we carry, we have a deep knowledge of each and every product we sell. We will gladly answer any questions you may have. We can also make recommendations if you're not exactly sure what you need.
Tips on Buying Bowling Shirts
There are a lot of great reasons to purchase bowling shirts from BowlerX. It really doesn't matter what your skill level may be – when you look good, that gives you more confidence. When you have more confidence, you bowl better. Here are a few tips on making the right choice when buying your shirts.
Designs/logos – Our black and white shirts are perfect for putting your team logo or you name on the back. Customizing your shirt is a great way to advertise your team's sponsor as well.

Stand out – A unique shirt will tell everyone at the alley that you're serious about your game – and also about looking your best. If you're in a competition and a crowd's watching, the right shirt just might have them cheering for you, and giving you the added edge you need to play your best.

The right fit – Take your time and make sure the shirt fits perfectly. If it's too tight, that could restrict your range of motion. If it's too loose, it could potentially interfere with your release.

Get the right material – Sure, you could bowl in your regular, everyday shirt. But there's a reason there's such a thing as a bowling shirt. It's made of materials that won't get in your way when you play, and keep you cool and comfortable.

Go With the Pros
The experts with BowlerX know everything there is to know about bowling shirts and every other product we sell. We have more than 2,000 products in stock at all times. If, we happen to be out of something, we'll make sure we can get it to you within 1-3 days. Get in touch with us today if you have any questions. You can use our convenient online form or just give us a call at 844.269.5379.