Whether you are a beginner or an expert bowler, you will need comfortable bowling shoes that provide a smooth, fluid, and fast glide/slide to prevent injury and improve your game. BowlerX.com carries a complete line of bowling shoes for men.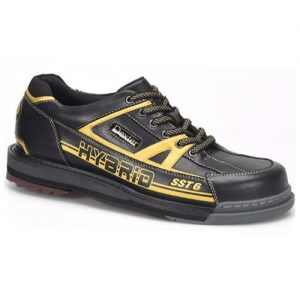 BowlerX.com is an authorized dealer for AMF, Brunswick, Columbia, DV8, Ebonite, Hammer, Motiv, Radical, Roto Grip, Storm, Track, and other brands. We are rated #1 for customer service, product knowledge and pricing. When you shop with us, you will receive top quality products at the lowest prices.
We also carry a wide range of must-have bowling equipment, including a huge selection of bowling balls, bowling gloves, bowling tape, towels, ball cleaners and polish, grip sacks, wrist braces and supports, and many other products.
Bowling Shoes: Athletic or Performance?
Athletic style bowling shoes are styled very much like standard athletic shoes but are specifically designed for bowling. They typically have a sliding sole on both shoes. Athletic bowling shoes offer more support and traction and a better fit than rental shoes and are good for beginning and intermediate bowlers.
If you are an advanced or expert bowler, you will want to consider high performance bowling shoes. These shoes are fully customizable to lane conditions, bowler performance, and slide length. They are designed specifically for right-handed or left-handed bowlers, with one shoe specifically designed for sliding, and the other for braking.
With performance bowling shoes, the sole of the sliding shoe allows you to easily slide during your delivery, while the sole of the braking shoe is usually made of a higher friction material (such as rubber) to provide traction.
Many high-performance bowling shoes come with interchangeable heels and sole pads in order to match your style and the surface on which you bowl.
Get the Right Fit
Bowling shoes come in a variety of sizes. While you won't want too tight of a fit, you should also avoid a bowling shoe that is too loose. A shoe that doesn't fit snugly can throw off your balance and have a negative effect on your game. Even if you already know your size, have your feet measured to get the perfect fit.
Shoe Brands & Features
Our stylish and affordable bowling shoes from Dexter, KR Strikeforce, 3G, Brunswick, Storm, and Hammer make it possible for you to have the utmost comfort when bowling and are designed to keep you from slipping when playing.
Here are the main features to consider:
Durability: Synthetic leather is flexible and lightweight but may not be as durable as premium grade leather.
Inner sole: EVA is a reasonably priced material and will mold to the shape of your feet to provide the utmost comfort.
Outer sole: The outer sole should be made from rubber. It provides the perfect slide and can endure a lot of punishment from advanced players.
Visit the BowlerX.com website for bowling shoes and accessories for men, women and kids. When you need help making a decision or want more information, give us a call at 844.269.5379 or contact us online.