When shopping for bowling shoes for women, whether for yourself or for gifts, you can be sure that BowlerX.com offers first quality products at the lowest prices.
BowlerX.com is the online bowling superstore. We are based in Bethlehem, Pennsylvania and are rated #1 for customer service, product knowledge and pricing.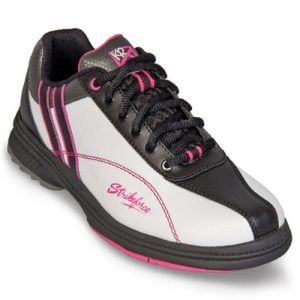 We carry a complete line of women's bowling shoes, from entry level to pro performance interchangeable sole/heel shoes. Enjoy affordable choices from Dexter, 3G, KR Strikeforce, Brunswick, Storm and Hammer.
As an authorized dealer for all of the brands we sell, we stand behind every sale. We offer:
Unique high-quality bowling products at the lowest prices;
No seconds or blems;
Easy online ordering;
FREE standard shipping;
No hidden fees;
Simple return policy – no hassles, no questions asked;
Friendly, knowledgeable customer service.
Athletic & Performance Bowling Shoes
Athletic bowling shoes look and feel very much like standard athletic shoes but are designed specifically for bowling. There is typically a sliding sole on both shoes. Athletic bowling shoes are good for beginning and intermediate bowlers and offer more support and traction and a better fit than rental shoes.
Advanced and expert bowlers will want to consider high performance bowling shoes. These shoes are fully customizable to lane conditions, bowler performance, and slide length. They are designed specifically for right-handed or left-handed bowlers, with one shoe specifically designed for sliding, and the other for braking.
With performance bowling shoes, the sole of the sliding shoe allows you to easily slide during your delivery, while the sole of the braking shoe is usually made of a higher friction material (such as rubber) to provide traction.
Many high-performance shoes come with interchangeable heels and sole pads that can match your bowling style and the surface on which you bowl.
How to Care for Your Bowling Shoes
Maintaining your bowling shoes is an essential part of bowling, especially if you bowl in different bowling centers or in tournaments.
Keep the bottoms of your shoes clean and dry. Put shoe covers on them whenever you need to leave the player's area to protect them from water, oil, and other substances. Never go outside or to the bathroom wearing your bowling shoes.
Keep the soles of your bowling shoes in the best condition and improve their traction by brushing them with a wire brush after each game. Generate more slide by brushing the slide sole from the toe to the back of the shoe in smooth strokes. To create less slide, brush the slide sole from side to side.
Avoid the build-up of bacteria inside your shoes by always disinfecting them after bowling. This will eliminate sweat and improve the durability and longevity of your shoes.
Always store your bowling shoes in a cool and dry place.
For a wide selection of bowling shoes for women, as well as bowling balls and accessories, visit BowlerX.com where you'll find many different products for sale.  If you need more information or have a question to ask, give us a call at 844.269.5379 or contact us online.