Whether you are a beginner or an expert bowler, you will need comfortable bowling shoes that provide a smooth, fluid, and fast glide/slide to prevent injury and enhance your game. BowlerX.com carries the widest online selection of bowling shoes for all bowlers, no matter the skill level, at the lowest prices.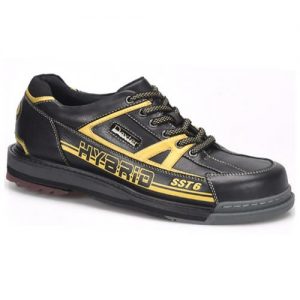 BowlerX.com is the online bowling superstore. We are based in Bethlehem, Pennsylvania and are rated #1 for customer service, pricing, and product knowledge. As an authorized dealer for AMF, Brunswick, Columbia, DV8, Ebonite, Hammer, Motiv, Radical, Roto Grip, Storm, Track, and other brands, we also carry a wide range of must-have bowling equipment. Everything you need to improve your game is available at BowlerX.com! 
Bowling Shoe Advice
While having the perfect pair of bowling shoes isn't going to guarantee you get that elusive 300 bowling score, it can maximize your practice ability and improve your skill set. Before you shop for shoes, you should consider how much time you are going to spend on the lane, how much money you want to spend, and the level of comfort you hope to achieve.
Bowling can cause injuries, specifically to your feet. There are some unique stressors applied to feet as we bowl. In fact, one of the most common issues is caused by walking on your tiptoes prior to releasing the ball. This can create additional strain on ligaments in the toes. If you know this is something you regularly do, purchasing a pair of shoes that provides you with custom orthotics can reduce this pressure.
Custom orthotics are always advisable in the bowling world. As you improve your skills you will notice that your swing and walking style will change. This initial lack of coordination strains your arches and leads to inflammation. When you opt for custom orthotics you have the ability to switch them to whatever pair of bowling shoes you have chosen to wear.
As you can see, picking the shoe you like is only part of the solution. You have to make sure you are protecting your feet with orthotics that support the areas in which you might have the most trouble. And then, you have to really take care of your shoes, even if they aren't the most expensive pair available. Proper care of your shoes means:
Loosening your shoelaces, not just prying them off at the heel when you remove them
Wearing absorbent and clean socks
Wiping the shoe and sole after every use because the oil used on lanes can destroy them over time
Using a bristle brush to gently clean your shoes when they get dirty
Switching shoes if you are a daily bowler
Keeping your shoes out of the trunk of your car and in a cool, dry place
Buying a shoe tree if you are going to store the shoes for any length of time
Never crushing them
Taking them off before you go outside or to the bathroom while at the lane
Making sure you don't get them wet
Treating them well so they will last you a long time
Bowling shoes are an important aspect of the sport. It's important that you take good care of them and that you buy a pair that fits you well. At BowlerX.com we can help you figure all of that out! Visit us online or give us a call at 844.269.5379.