Bowling trolley bags are also known as roller bags. At BowlerX.com you can learn all you need to know about the trolley bag options that are available to you based on your skill level and time invested in the sport.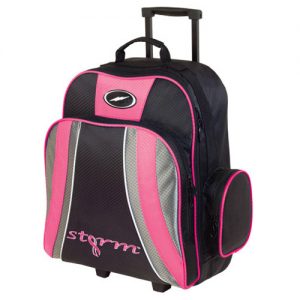 BowlerX.com is the online bowling superstore. We are based in Bethlehem, Pennsylvania and are rated #1 in pricing, product knowledge, and customer service. We are an authorized dealer for all the products we sell, and we stand behind every sale we make. We offer our customers:
Friendly, knowledgeable customer service
Simple return policies, no hassles and no questions asked
No hidden fees
FREE standard shipping
Easy online ordering
No seconds or blems
Unique, high-quality bowling products at the lowest prices
Choose the Best Bowling Ball Bag
Bowling bags are not just like the average sports bag. Before you decide on a bowling trolley (or roller) bag, it's important to think about the equipment and accessories you will need to carry within the bag. It is also imperative that you understand the quality of the bag's construction. Here are the main things to consider when choosing the best bag for you:
Number of balls: Bowling ball bags can carry between 1 and 6 balls based on your need. If you are a serious or professional bowler, you probably have at least three balls for the different types of shots you will be taking and lanes you will be playing on. Recreational bowlers, on the other hand, probably won't require a bag that accommodates that many balls.
Space: Before you shell out money for the new bag, don't just think about the equipment and accessories you have right now. Consider what your ultimate goals are and buy a bag that will accommodate that amount of stuff. Look at how many compartments a bag offers. While some bags are compact and simple, others will allow you to carry everything you need including your phone, wallet, and keys!
Materials: The construction of the bag should be pretty high on your list of factors to consider. This is because it will determine just how long that bag is going to last. Since the ball you place in the bag could weigh as much as 16 pounds, it is necessary to purchase a bag that has been made of durable material and includes a strong handle. As you begin researching these bags you will notice that they are described as being made with 840D, 600D, or 840D/600D fabric. The "D" stands for denier. Denier is a unit of measurement that determines the thickness of the fibers that makeup the fabric and textiles. Fabrics that are considered 70D to 400D are generally lightweight and soft. So, getting a fabric with a higher denier count will provide you with thicker and sturdier design that will thereby be more durable.
Also, if you have to make a decision between nylon and polyvinyl fabric, we would suggest that nylon be your first choice. It is the strongest, most durable material, and might even have been treated to make it water repellent or resistant.
When shopping for bowling trolley bags, for yourself or as a gift, you can be certain that BowlerX.com offers the best products available at prices you can appreciate. If you have questions or need more information, give us a call at 844.269.5379 or contact us online.