Protect your investment with durable, lasting Brunswick bowling ball bags. Whether you are looking for single, double, or triple ball totes or rollers, when it comes to selection and quality, BowlerX.com has everything you need.
BowlerX.com is an authorized dealer for AMF, Brunswick, Columbia, DV8, Ebonite, Hammer, Motiv, Radical, Roto Grip, Storm, Track, and many other brands. We are rated #1 for customer service, product knowledge and pricing. When you shop with us, you will receive first quality products at the lowest prices.
About Brunswick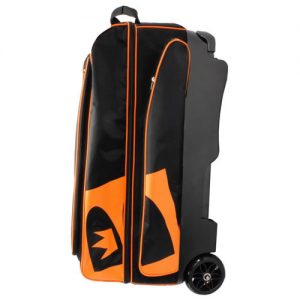 It's virtually impossible to discuss bowling and bowling equipment without mentioning the name Brunswick. The company is the oldest and largest manufacturer of recreation and leisure-time products in the USA, which includes bowling equipment, billiard tables, pleasure boats, and outboard motors.
Founded by John Moses Brunswick, the company began to manufacture bowling balls, bowling pins, and wooden lanes when the interest in bowling began to grow during the 1880s.
By 1906, the company opened a large manufacturing plant in Muskegon, Michigan, that eventually grew to over one million square feet in the 1940s and became the foundation of Brunswick's manufacturing. Today, the company manufactures Brunswick, DV8, and Radical brand balls, bags, and accessories.
As you explore Brunswick bowling bags, you'll discover a wide selection at BowlerX.com. For a single ball, for example, consider the Brunswick Tzone Single Tote with its padded, adjustable shoulder strap; and room for shoes (to size 14) and accessories. This bag is particularly popular with junior bowlers.
When you need something larger, the Brunswick Blitz Triple Roller offers a best-in-class base with a flush retractable handle, smooth 5-inch PVC wheels, plenty of room for your shoes and accessories, and comes with a 5-year limited warranty.
Items to Keep in Your Bowling Bag
Your bowling bag/tote is like a survival kit. While most people just carry a bowling ball or two, a pair of shoes, and a towel to keep the surface of the bowling ball clean, there are other supplies and accessories you should consider.
Bowling Towel:  A bowling towel is an essential item in every bowler's bag. Towels do more than just get the oil off of the ball. They are also a great way to dry your hands when the game gets intense and your hands get sweaty.
Shoe Covers: Shoe covers will protect your bowling shoes from moisture, gum, and food, inside and outside of the bowling center. They slip-on over the shoes and come in a wide variety of styles, colors, and patterns.
Wrist Support: Some bowlers experience discomfort in the hands and wrists, especially when they release the ball. Our wrist braces and supports provide maximum comfort, support and stability. They are available in adjustable and non-adjustable models.
Grip Sacks & Tape:  Bowling tape is an extremely useful accessory to have in your bag at all times. Use it to enhance the grip of your bowling ball. Insert grip tape into the thumb and finger holes of your ball to adjust fit problems caused by shrinking and swelling. And keep your hands dry while you bowl with a grip sack.
When you need more information about Brunswick bowling ball bags or other brands, give BowlerX.com a call at 844.269.5379 or contact us online.