Sincere competitors do everything within the rules of fair play to perfect their gameplay. The right attire can absolutely have an impact on the score at the end of the game. BowlerX.com offers a wealth of branded bowling shirts for you to buy with a risk-free return policy. With the size of our inventory and the diversity of our catalog, you can floss your individual or team style while improving your form, aim, and ball release.
Comprehensive Online Shopping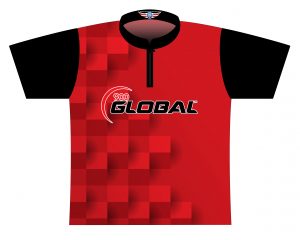 The inventory at BowlerX.com includes over 2,000 items of bowling-related apparel, equipment, accessories, and more – making us the leading online superstore. Everything that we do is motivated by our Love of Bowling and our desire to spread it!
BowlerX.com is an authorized dealer of a range of bowling shirts including our own brand, TeamFish, The Pro Collection, Hammer, Vise, 900 Global, AMF, Brunswick, Columbia, DV8, Ebonite, Lord Field, Military Bowling, Motiv, Radical, Roto Grip, Storm, and Track.
Secure Online Shopping
Secure shopping is a modern concern for anyone who buys merchandise online. Protecting passwords and banking information is a key responsibility of any online merchant, and BowlerX.com takes our obligation seriously. We also offer free shipping and are rated first in customer service.
Satisfying Online Shopping
You'll get what you want and need when you shop with us. And if you don't, we have no issue with returns and exchanges. Return your unused purchase in the original packaging within thirty days and in doubled bags or boxes to ensure that the trip doesn't cause damage. No reason will be required to receive an exchange or refund.
Our bowling apparel is ideal for the recreational bowler as much as for the pro or league bowler.
What to Know Before You Buy
Buying a bowling shirt isn't rocket science, but it is good to know a few tips.
The fit of a bowling shirt is key. Your guns might be prime for display, but a bowling shirt shouldn't be tight. The shirt shouldn't be too loose either since excess material can get in the way of your perfect form and ball release.
Bowling shirts should also keep you dry and comfortable. Modern bowling shirts are usually made from a wicking material that keeps sweat off your skin, and old-school bowler shirts are composed of cotton or a cotton blend.
Blazoning your bowling moniker on your bowling shirt is a time-honored tradition of the game. BowlerX.com makes it easy to include your league's team name, individual name, and even sponsorships for pro players.
The 900 Global Brand
The 900 Global Brand is an American company with a "Striking Worldwide" slogan that says it all. This brand manufactures all sorts of bowling merchandise from balls and bags to apparel and more, and BowlerX.com is proud to be an authorized dealer of this brand.
If you're ready to buy 900 Global, Vise, or other brands of bowling shirts, browse our inventory at BowlerX.com. Should we lack the item you're hunting down, let us know and give us a few days. We can generally locate any bowling-related item in three days or less. Feel free to shop on our site, or reach out old-school by dialing (844) 269-5379. Those with plans to visit the Bethlehem, PA, area, should come check out our pro shop at Town & Country Lanes where we offer superior level coaching services.