Pay homage to the origins of bowling with AMF bowling shirts – available to buy online at BowlerX.com. Short for American Machine & Foundry, the company is now known as Bowlero Company, but the tradition of sporting fun continues. Visit BowlerX.com to find any sort of bowling equipment, clothing, or other accessories in our catalog. It holds over 2,000 items of all sorts of branded, high-quality merchandise.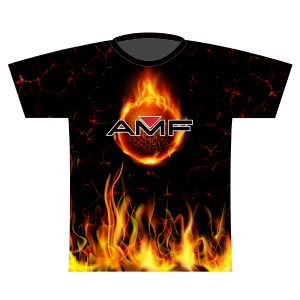 The key to finding the right bowling shirt is to find the perfect balance of style and fit. Buying online can complicate meeting these goals. Luckily, BowlerX.com offers the expertise of bowling aficionados as well as a hassle-free return and exchange policy.
As the online bowling superstore, BowlerX.com offers top-rated customer service, an impressively wide-ranging inventory, and the ability to locate specific items quickly on the odd occasion when you're looking for something we don't have in stock.
BowlerX.com is an authorized dealer of several brands of bowling shirts including the following:
BowlerX shirts
TeamFish shirts
The Pro Collection
Hammer
Vise
900 Global
AMF
Brunswick
Columbia
DV8
Ebonite
Lord Field
Military Bowling
Motiv
Radical
Roto Grip
Storm
Track
Fair prices, free standard shipping, and no-questions-asked returns are all benefits of shopping with BowlerX.com. If you find that an item you buy doesn't fit or doesn't satisfy for any other reason, send it back for another item or a refund. We only request that you do so within thirty days of purchase, that you refrain from returning used goods, and that you use two bags or boxes when returning the products to prevent damage.
A great bowling shirt like an AMF branded one is great for streetwear and bowling adventures. This brand conveys a history of fun and sportiness, and the modern design allows for individual style, bowling comfort, and perfect form. We offer apparel of the highest quality at fair prices in a wide range of sizes and neck styles. From youth small to women's and men's multi-X-large, we offer shirts to fit all bowlers, and crew, V-neck, polo, and zipper neck styles for all comfort levels.
What's a proper bowling shirt without personalization? Incorporating the team, player, and applicable sponsors are all obligatory parts of a bowling shirt concept. At BowlerX.com, we make this personalization a part of the ordering process. When you order, give us the info you'd like included on the shirt. With 2-4 weeks for manufacturing, we'll have your order prepared. Faster service is also available with a 5- or 10-day premium price. Make your team the talk of the alley with a personalized bowling uniform for your crew.
One of the most important things to remember when you're shopping for bowling shirts is the fit. Much like the tale of Goldilocks and the Three Bears, your bowling shirt should be not too loose and not too tight, but just right. Being too loose will leave fabric in the way of releasing the ball directly down the lane, and a too tight shirt will constrict movement and mess up your form.
As you shop for ideal bowling shirts, keep AMF, Vise, and Columbia 300 in mind when choosing the best brand to buy. BowlerX.com offers all the major brands at the right prices and great quality. For more information or to place an order, check out our website or dial our customer support staff at (844) 269-5379.