You can buy bowling ball bags for sale at BowlerX.com, an online retailer you can trust! We offer a huge selection of products and exceptional customer service.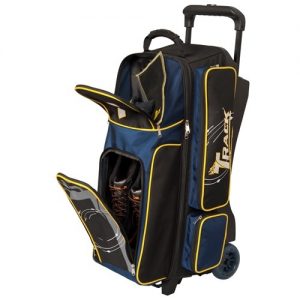 BowlerX.com is an authorized dealer for Brunswick, Columbia, Dexter, DV8, Ebonite, Hammer, Motiv, Roto Grip, Storm, Track, and other brands, and we stand behind every sale. We are rated #1 for pricing, product knowledge, and customer service. When you shop with us, you will receive first quality products at the lowest prices.
We offer:
Friendly, knowledgeable customer service
No hidden fees
Easy online ordering
No seconds or blems
Products from all major brands
High quality bowling products at the lowest prices
FREE standard ground shipping
A simple return policy- no hassles and no questions asked

Some Options for Great Bags
As we have already stated, we carry the most well-known names in this sport. There are many options for you as you search through our inventory of bowling ball bags, so it would be impossible for us to talk about all of them here. However, we would like to direct your attention to some options for great bags:
Columbia 300. Columbia Industries was founded in 1960 and was the first to introduce plastic (polyester resin) bowling balls. Their most notable brand is the Columbia 300. Columbia bags are available in many styles and sizes and are designed to hold from 1 to 4 balls. Many of them include separate pockets or compartments to accommodate shoes and accessories. A great beginner bag would be the Columbia White Dot Single Tote.
Brunswick. It's nearly impossible to talk about bowling without hearing the name Brunswick. The company began to manufacture bowling balls, pins, and lanes when the interest in bowling started to grow during the 1880s. You'll discover a wide array of options within this line including the Brunswick Tzone Single Tote, which is great for junior bowlers. Or the Brunswick Blitz Triple Roller for those of you in need of a larger bag.
900 Global. This company was formed by former Columbia 300 employees. Their mission was to provide bowlers of all levels with unmatched quality, excellent customer service, and the highest performing products at reasonable prices. The 900 Global 1-Ball Deluxe Single is an easy to carry tote that can hold additional accessories and one pair of shoes up to size 12. Another popular choice is the 900 Global 3-Ball Deluxe Roller with quad 5" urethane wheels it is easy to steer, is balanced, and will quietly get you where you are going.
DV8. Established in 2011, DV8 Bowling manufactures flashier and edgier balls and accessories than most other brands. You can carry your gear in style in one of their single ball totes, 2-ball totes, 2-ball rollers, 3-ball wheeled totes, and 3-ball rollers. A great beginner choice is the DV8 Tactic Single Tote. Or you might find that the DV8 Freestyle Double Roller Bowling Bag is better suited for your needs with its large accessory pocket and ability to carry a pair of shoes up to a men's size 17!
Buy bowling ball bags for sale from BowlerX.com. They're available in a variety of styles and colors for everyone from newbies to professionals. If you need more information, give our team a call at 844.269.5379 or contact us online!