When you buy bowling joint supports online from BowlerX.com, you're not only helping protect your body, you'll also get products that are reliable and made of the highest quality materials. The reason is that we only sell items from trusted manufacturers – companies that are committed to providing the very best products, as well as making sure customers are completely satisfied.
Ways You May Benefit from Using Joint Supports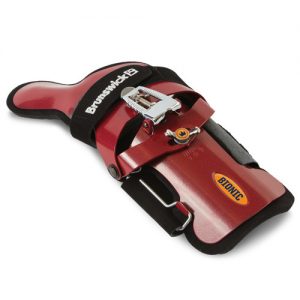 If you have a problem with your wrist, elbow – or any other joints, for that matter – bowling can be difficult, if not impossible. But rather than give up the game we love, why not try something that could help protect our joints while we bowl?
A wrist support is particularly important for people who bowl on a regular basis. It will obviously help keep your wrist safe from injury, but it might also help your game. Wrist supports are designed to keep your wrist from twisting as you release the ball. When you twist too much, that can really affect your accuracy.
Even if you don't have any wrist problems, you might want to consider using a wrist support anyway. Here's a quick look at how this type of joint support can help boost your scores.
Strength – If you bowl a lot, you might notice that your "bowling wrist," so to speak, isn't quite a strong as it used to be. It's a lot like how playing other sports regularly can affect other areas of the body. Avid golfers, for instance, tend to have back issues. People who love to play a lot of basketball will often have aching knees. Using a wrist support will not only support the joint, it could also help you hook the ball and get more strikes.
Power – When you keep the ball low, that helps give your shot more power. The reason is that it increases ball spin. Using a wrist support will keep you in a great position as you release the ball.
Positioning – It can be hard for people with wrist issues to release the ball properly. The thumb should come off the ball right before the fingers do. A wrist support can help ensure your hand is in the right position each and every time.
The BowlerX.com Difference
You might have purchased bowling supplies from other online retailers in the past, only to be disappointed in the products you received. But BowlerX.com has been the go-to source for bowlers of all skill levels for more than a decade. Why is this the case? Because we not only have a vast selection (more than 2,000 items), we also stand behind everything we sell.
Even more important, we care deeply about giving our customers the best possible buying experience. All of our staff members love the sport of bowling, and they have a deep understanding of all the items we carry. If you have any questions whatsoever, we'll be more than happy to answer them. We want you to be completely comfortable buying from us, and we want to earn your long-term business.
When you're ready to buy bowling joint supports online, a friendly BowlerX.com representative will be ready to help. Contact us by using our convenient online form or by calling (844) 269-5379. We can't wait to hear from you.