You can buy bowling shirts online from a host of retailers, but none of them will offer you the product knowledge and service provided by BowlerX.com the online bowling superstore.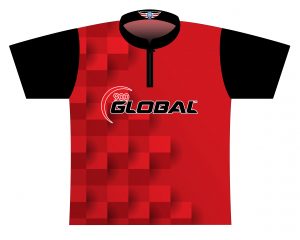 Our products will fit you perfectly, or we'll exchange them at no additional cost to you! We'll pay all the shipping costs! Just try them on, and if they don't fit, exchange them for the right size. If you are not happy with an item from BowlerX.com, you have 30 days to return it and get a full refund. No restocking fees, no hassles, no questions to get your money back. All we ask is that items are unused, in original packaging, and shipped back double boxed/bagged for protection.
BowlerX.com is an authorized dealer for Brunswick, Columbia, Dexter, DV8, Ebonite, Hammer, Motiv, Roto Grip, Storm, Track, and other brands, and we stand behind every sale. We are rated #1 for customer service, product knowledge, and pricing. When you shop with us, you will receive first quality products at the lowest prices.
The Benefits of Bowling Shirts
Even amateur bowlers feel a sense of pride when they don their bowling shirts. People instantly recognize you as a bowler and that, for a lot of people, is the greatest benefit of wearing and owning bowling shirts. However, there are additional benefits that you might not be aware of:
Black and white shirts. When you opt for this color scheme you will have an increased ability to imprint personal and team designs at a less expensive rate. Black and white are the easiest colors to add designs to.
Distinguishes you from other bowlers. When you are on the lanes with your team, or at a professional game, having your own unique shirt will help people tell the difference between who you are playing with and who you are playing against. Spectators appreciate that so they know who to cheer on from the sidelines.
Fit is imperative. You will have certainly noticed that bowling shirts are typically short sleeved. That is because the designers want to ensure that no fabric gets in the way of your ball or your swing. However, making sure the shirt fits properly will determine its true benefits to you. A tight shirt will constrict your range of motion and thereby negatively impact your game. Whereas one that is too loose can rub your arms or create interference in your swing.
Comfort is king. Bowling can be an intense sport and when you are uncomfortable in your attire you will notice that your game is not what it should be. Bowling shirts are made of cotton or cotton blends that allow for considerable comfort. Keep in mind that ordinary clothes can fit in ways that are distracting.
Customization abilities are awesome. Whether you want your name on your shirt, or the team's logo, bowling shirts offer you the ability to customize as you see fit. Maybe you aren't on a team, but you have a certain motto or image that you want to display when you are on the lanes. Having a bowling shirt affords you that ability with ease!
Now that you know why you want to own a bowling shirt, you can buy bowling shirts online from BowlerX.com. We welcome your questions and look forward to assisting you in all your bowling supply and equipment needs. Visit us online or give us a call at 844.269.5379.