You can buy bowling shoes online from BowlerX.com. We offer the widest selection of bowling shoes and can meet the needs of all bowlers no matter their skill levels.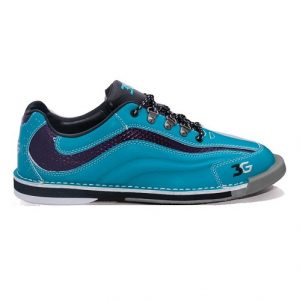 BowlerX.com is an authorized dealer for AMF, Brunswick, Columbia, DV8, Ebonite, Hammer, Motiv, Radical, Roto Grip, Storm, Track, and other brands. We are rated #1 for customer service, product knowledge, and pricing. When you shop with us, you will receive top quality products at the lowest prices. And we always offer FREE Shipping every day on every purchase.
As an authorized dealer for all the brands we sell, we stand behind every sale. We offer:
Unique high-quality bowling products at the lowest prices;
No seconds or blems;
Easy online ordering;
No hidden fees;
Simple return policy – no hassles, no questions asked;
Friendly, knowledgeable customer service.
Brake Shoes and Slide Shoes
You may have heard the terms braking and sliding shoes and wondered what that was all about. Let our experts attempt to help you better understand the concept.
First and foremost, bowling well requires that you practice not just your arm swing but your gait as well. And, on the lanes you have to be certain not to cross the foul line. That means your body will ultimately need to glide to the line smoothly and stop prior to it. Hence, sliding and braking shoes.
To further your understanding, when you buy performance bowling shoes as opposed to the athletic version, you will receive a braking and a sliding shoe. The brake shoe belongs on your dominant foot and the sliding shoe on the other.
Herein lies the science of bowling. When you bowl, the motions you use in the swing and your gait are designed to transfer energy to the ball. If you can't push into your slide you will lose that essential energy transfer, or at least minimize it. Thus, the value of your slide shoe, it keeps that momentum for your release to maintain the power you want it to have.
Additionally, the brake shoe serves the purpose of ending that forward motion. This gives the added "liftoff" you need in your release so that you knock all the pins down. Though obviously, a pair of shoes isn't going to guarantee you get a perfect score, but they can ensure you better your chances at doing so.
One more thing about sliding shoes, you will notice that they come with removable sole options. These leather, or synthetic version, soles enable you to change your soles based on the kinds of lanes you are playing on. This is essential for those of you who play in varying conditions.
The interchangeable soles and heels provided via performance bowling shoes offer you the ability to adapt your shoes to suit wood and synthetic lanes. They are generally quite durable and strong, will be suitable for regular wear, and last you a long time if you care for them properly.
Now that you have a more complete understanding of the purpose behind it, you can definitely buy bowling shoes online through BowlerX.com. Visit our online shop or give us a call today at 844.269.5379 for more information or assistance.