A stylish, properly fitting bowling shirt is not magic. It won't remedy a horrible game, but it can influence confidence and the effectiveness of your aim and release. At BowlerX.com, the online bowling superstore, allcomers can buy Hammer bowling shirts. Whether you have a league tournament on your calendar or simply prefer sporty streetwear, you'll find the most affordable, highest quality branded options available here.
Hassle-Free Online Ordering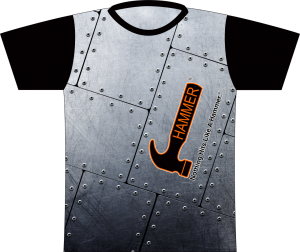 Online shopping for apparel can be tricky. When items arrive and don't fit properly, some retailers won't allow you to return them. BowlerX.com understands this issue, so we make returns simple. If your order doesn't fit, the colors don't appear as they did on the screen, or you're unsatisfied for any reason at all, return it, no questions asked.
All that we require is that you return the goods unused, in original packaging, within 30 days, and double bagged or boxed to prevent damage during the return trip. We want return customers, not dissatisfied ones. You can rest assured that we'll be as helpful and obliging as possible.
Expertly Provided Online Shopping Guidance
We know bowling here at BowlerX.com. Our specialty runs the gamut from equipment used to bowl, apparel, accessories, and even books and videos about the subject. Whether you're an expert or a novice, we can help you identify the perfect item to purchase. With over 2,000 items in our inventory, the love of bowling as motivation, and the ability to locate any product we lack in a few days, we're able to provide full satisfaction to even the choosiest customer.
Shopping for a Bowling Shirt
Loose, Not Baggy
When you're choosing the right bowling shirt, consider the way that the shirt fits. You should be able to move comfortably, but fabric shouldn't hang. A tight fit will interfere with your approach and set up, and loose fabric can mess up the ball release. The significance of fit is one of the most significant reasons for us to offer hassle-free returns for exchange or refund.
Create a "Uniform" for Your Bowling Team
Having a shared "uniform" gives a team a greater sense of camaraderie and will elevate a standard night out bowling to an EVENT worthy of a special shirt! Additional benefits can include labeling shirts with the team's and individual bowlers' names. Fans will know specific names to chant, and it will be easier to count shirts instead of heads in a crowd during beer runs throughout the evening.
Embrace "Enclothed Cognition"
"Enclothed cognition" is the psychological phenomenon that occurs when our attire influences our attitudes and behaviors. The professional look and feel of a genuine bowling shirt will have a positive effect on your confidence, your game play, and your social endeavors.
Keep Dry Under Pressure
Whether you're an intensely competitive bowler or nervous about a first date with someone you really like, a professional bowling shirt will keep you dry, cool, and comfortable under pressure.
Whether you're looking for the perfect Hammer bowling shirts for yourself or as a gift to someone else, choose to buy from BowlerX.com. You can order from us online or give us a call at (844)269-5379 for customer service assistance. Our goal is always to help make sure you get what you need – whether it's the right weight ball to the best branded bowling attire. We have a friendly, obliging return policy and a helpful customer support practice.