Buy Columbia 300 bowling ball bags from BowlerX.com, an online retailer you can trust! We offer a huge selection of products and exceptional customer service.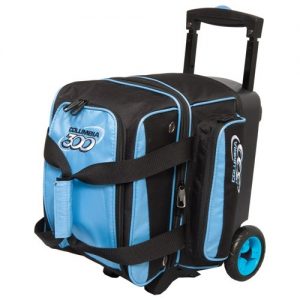 BowlerX.com is the online bowling superstore. We are based in Bethlehem, Pennsylvania and are rated #1 for customer service, product knowledge, and pricing. When you purchase bowling balls, bags, shoes, or other products, whether for yourself or for gifts, you can be sure that you will receive first quality products at the lowest prices.
About Columbia 300
Founded in 1960 in Ephrata, Washington (near the Columbia River), Columbia Industries manufactured bowling balls and accessories and was the first to successfully use polyester resin ("plastic") instead of hard rubber in bowling balls. Their most notable brand, Columbia 300, has produced some of the most well-known balls in the sport. The company later moved to San Antonio, Texas.
Since about 2007, Columbia's brands are now manufactured by parent company Ebonite International, located in Hopkinsville, Kentucky, including Hammer, Track, and Columbia 300 bowling balls.
How to Choose a Durable Columbia 300 Bowling Ball Bag
Columbia 300 bowling bags are available in many styles and sizes and are designed to hold from 1 to 4 balls. Many of them include separate pockets or compartments to accommodate shoes and accessories.
The simplest bowling bags look like backpacks, such as the Columbia Tournament Backpack which is ideal for freeing up your hands to carry an extra ball, shoes,  accessories, keys, food, etc., while others resemble a hand truck and feature stackable detachable sections.
Keep in mind that bowling ball bags are not just average sports bags. As you evaluate them, the construction of the bag may be the most important factor to consider. This will determine how long the bag should last and its cost.
Your bowling ball alone could weigh up to 16 pounds, so you'll want a bag that's made of durable fabric and has a strong, durable handle. You will see bowling bags described as being made with 600D fabric. The "D" stands for "denier," a unit of measurement that describes the fiber thickness of the individual threads. Fabrics in the 70D to 400D range are lightweight and softer. Fabrics with a higher denier count 600D and higher are thicker, sturdier, and extremely durable.
A well-made bag will also be well-balanced, evenly distributing the weight and making the ball seem lighter than it actually is. Look for a bowling bag with a heavy-duty frame and hardware, reinforced or double zippers, a steel axle, and larger wheel sizes for increased mobility and stability.
When you need a sturdy roller bag that will accommodate several balls, consider the Columbia 300 Team Columbia 4-Ball Roller. This bag features exceptionally strong 1680D fabric, 5-inch Smooth KRuze urethane wheels with steel bearings, premium YKK luggage zippers, a shoe compartment that holds up to size 15 shoes, large accessory storage pockets, and a retractable locking handle that extends up to 45-inches. The top bag is also removable and becomes a full-featured 2-ball tote.
Looking for the best Columbia 300 bowling ball bags? Whether you're headed to league night or just to practice, these bags are designed to hold all of your bowling gear in one convenient space, and BowlerX.com can help you make the right choice. Give us a call at 844.269.5379 or contact us online to explore your options.