Columbia 300 Bowling Shirts provide style, color, and comfort for bowlers worldwide. To buy these, or any other bowling product, count on us here at BowlerX,com! We offer an array of quality goods for the Love of Bowling!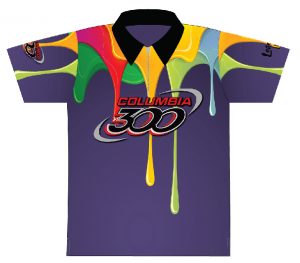 BowlerX.com, the online bowling superstore, is family-owned and regularly receives top marks for customer service. In addition to Columbia 300 bowl balls, bags, and sportswear, we offer all sorts of other major brands as well as our own. Shop with us for fair-pricing and a sure fit with no hidden fees and free standard shipping. We make it easy to order online or via phone. Best of all, we offer hassle-free return or exchange of products when they don't fit your body or style. All that we require is that products are returned unused and in a doubled box or bag combination for protection. We'll readily provide an exchange or a refund.
Columbia 300 Bowling Shirts
Columbia 300 is a brand produced by Columbia Industries, one of the most recognizable sporting equipment brands in the industry. Begun in 1960 in Ephrata, Washington, Columbia Industries has made its mark on the bowling world. From balls to bags, shirts, and more, since 2007, Columbia 300's products are produced now by a parent company, Ebonite International, located in Hopkinsville, Kentucky, and also the parent company of Hammer and Track bowling products and accessories.
Columbia 300 Wood Colorful Dye-Sublimated Bowling Shirt
Columbia 300 Red/Blue Dye-Sublimated Bowling Shirt
Columbia 300 Pastel Grunge Dye-Sublimated Bowling Shirt
Columbia 300 Paint Splatter Dye-Sublimated Bowling Shirt
Columbia 300 Paint Brush Dye-Sublimated Bowling Shirt
Columbia 300 Colors Dye-Sublimated Bowling Shirt
A Columbia 300 bowling shirt is not just an everyday shirt. These shirts share a common love of color and are designed to keep the wearer comfortable and facilitate participation in the sport. The quality shirts have breathable fabrics and tight stitching, and BowlerX,com is a proud authorized dealer of the brand's products. We'll stand behind our sales, making sure that satisfaction comes at the end of every purchase.
Customizing your Columbia 300 Bowling Shirt is easy. On the online form, provide the name you want printed on the back, and allow 2-4 weeks for production. For faster production, you have the option to pay a premium for 10-day or 5-day speedier production.
Sizes available range from a Youth Small all the way to a Men's 6X and a Women's Style 3X.
Neck styles are also customizable. Choose the style you prefer for comfort and appearance – crew, V-neck, sash collar (1/4 zipper), or polo style.
BowlerX.com proudly stocks an inventory with more than 2,000 incredible bowling products and accessories. We offer the lowest prices on quality bowling balls, bags, shoes, gloves, shirts, and more!
The right fit for bowling shirts is critical to game play. The shirt must be loose enough for unrestricted movement while tight enough that no fabric gets in the way of the arm motion. At BowlerX.com, if the fit isn't right, send the shirt back without charge or fees for one that suits your frame better.
If you're looking for the perfect bowling shirts, view the catalog of inventory at BowlerX.com. We offer numerous brands including Columbia 300, AMF, our own brand, and more. To order, use our online process, or call our customer service team at (844) 269-5379.