Visit the BowlerX.com website and shop 24 hours a day, 365 days a year, for DV8 bowling ball bags and other bowling equipment and accessories for men, women and kids.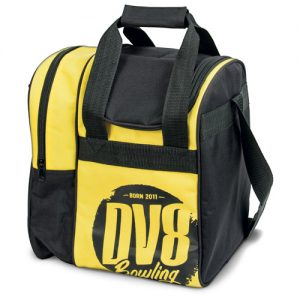 Since 2008, customers have trusted BowlerX.com as one of the largest online bowling retailers in the U.S. and rated us #1 for customer service, product knowledge, and pricing. As an authorized dealer for all of the brands we offer, we stand behind every sale, and you can be sure that you will receive first quality products from us at the lowest prices.
We carry bowling bags, bowling balls, bowling shoes, and bowling accessories from the greatest brands, including DV8, 900 Global, Brunswick, Columbia 300, Ebonite, Hammer, KR Strikeforce, Motiv, Radical, Roto Grip, Storm, Track, Vise, and others. If you love free shipping and low prices, look no further than BowlerX.com!
About DV8 Bowling Bags
Established in 2011, DV8 Bowling offers balls for bowlers of all ages and abilities, manufacturing high-performance, mid-performance, entry-level, and plastic balls. They tend to be flashier and edgier than many other brands.
You can  also carry around your gear in style with one of our best-selling DV8 bowling bags. DV8 bowling bags are available as single ball totes, 2-ball totes, 2-ball rollers, 3-ball wheeled totes, and 3-ball rollers.
Tote bowling bags are compact and take up little room. fitting easily into a packed car or under a seat. They feature padded compartments for your balls as well as a cushioned handle or non-slip shoulder strap that enables you to carry them comfortably like a duffle bag.
A good choice for beginners is the DV8 Tactic Single Tote is made from durable 600D  fabric and features a padded, adjustable shoulder strap, a separate side shoe compartment that holds up to size 11 shoes, and a 2-Year manufacturer warranty.
If you're a recreational bowler, a 2-ball roller bag may be your best bet. You may have only one ball, a pair of shoes, and a towel at the moment, but you'll most likely want to buy a spare ball or another strike ball in the future.
Consider the DV8 Freestyle Double Roller Bowling Bag with its 3.5 inch wheels, Velcro straps that hold the balls securely in place, retractable locking handle system, large shoe pocket (for up to men's size 17), and large accessory pocket to accommodate your other gear.
For even more capabilities, explore the stylish, top-of-the-line DV8 Circuit Triple Roller Bowling Bag with its flush retractable handle system, 5-inch urethane wheels, separate shoe compartment (that holds men's size 15 shoes), two accessory pockets on each side, and a 5-year limited manufacturer's warranty.
Transport your gear in style with DV8 bowling ball totes from BowlerX.com. They're available in a variety of styles and colors for everyone from newbies to professionals. If you need more information, give our team a call at 844.269.5379 or contact us online. Shipping is FREE and FAST!