When shopping for Ebonite bowling ball bags, whether for yourself or your favorite bowler, you can be sure that BowlerX.com offers top-quality products at the lowest prices.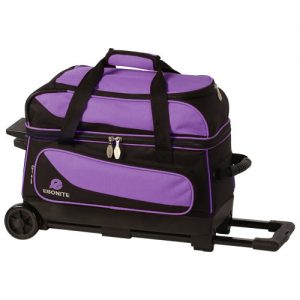 In addition to bowling ball backpacks, totes, and roller bags, BowlerX.com is an authorized dealer for AMF, Brunswick, Columbia, DV8, Ebonite, Hammer, Motiv, Radical, Roto Grip, Storm, Track, and other brands. We are rated #1 for customer service, product knowledge, and pricing, and stand behind every sale. When you shop with us, you will receive first quality products at the lowest prices.
About Ebonite Bowling Equipment
Ebonite, headquartered in Hopkinsville, Kentucky, was founded in 1907. In addition to their flagship Ebonite-branded bowling balls, the company also owns the Hammer, Columbia 300, and Track brands. They pride themselves on being an industry leader that makes every kind of bowling ball, bag, and accessory for all levels of bowler.
How to Choose the Best Bowling Ball Bags
Bowling bags are not just average sports bags. Before choosing your Ebonite bowling ball bag, it's important to consider the type of equipment you will be carrying inside the bag as well as the bag's construction.
Number of Balls:  If you're a recreational bowler, a bag that accommodates one or two balls will be your best bet. When you're a serious or a professional bowler, however, you probably own at least three different bowling balls for different types of lanes and different shots.
For maximum convenience, consider purchasing the deluxe Ebonite Players 4-Ball Roller that is made from durable 840D/600D fabric and features a removable top bag that becomes a full-featured 2-ball tote (perfect for airline travel), and multiple front and side accessory storage pockets.
Space:  Knowing how much space you will need in your bag – now and in the future – will help you decide which bowling ball bag best meets your needs. Some bags are simple and compact. Others feature multiple compartments that can carry items like your golf shoes, towels, resin, and everyday items like your keys, phone, wallet, and snacks.
Take a look at the Ebonite Transport II Roller Bag. This high-quality, durable wheeled bag has a retractable handle to make transportation easy, welded steel hardware, large self-repairing zippers, a separate vented shoe compartment, and a large, zippered pouch for clothing, towels, or accessories.
Tote or Wheeled:  Just like high-end luggage that has wheels to make your life easier, bowling ball bags are available in both tote and wheeled designs. Some of them are able to carry up to six bowling balls at a time. If you intend to carry several balls and lots of bowling equipment, a bowling ball bag with wheels will protect your ball and save your arm and shoulder strength for your game.
Customers seeking a simple but spacious single ball tote should consider the well-constructed Ebonite Impact Plus Single Tote that has an adjustable, removable shoulder strap with non-slip pad,  welded steel hardware, webbed nylon carrying handles with padded wrap, a removable polyurethane foam ball cup, and a separate compartment to store and protect shoes up to size 13.
Transport your gear in style with Ebonite bowling ball bags. They're available in a variety of styles and colors for adults and kids. Give the BowlerX.com team a call at 844.269.5379 or contact us online. Shipping is FAST and FREE!