Bowling bags transport bowling balls, shoes, and other accessories safely to and from the lanes. Get the latest bowling ball bags released by Hammer from the experts at BowlerX.com.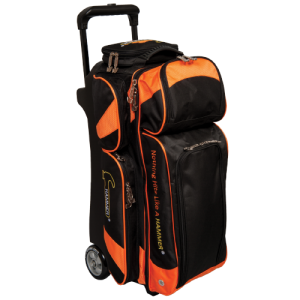 BowlerX.com is based in Bethlehem, Pennsylvania and rated #1 for customer service, product knowledge and pricing. When you shop with us, you can be sure that you will receive top-of-the-line products from major brands such as Hammer, Brunswick, Columbia, Dexter, DV8, Ebonite, Lord Field, Motiv, Roto Grip, Storm and Track, at excellent prices.
About Hammer
Hammer Bowling is a division of Ebonite International, and its equipment is manufactured in Hopkinsville, Kentucky. The company manufactures entry-level, mid-performance, high-performance, and plastic bowling balls for every type of bowler, from the beginner to the serious bowler, as well as bowling shoes, shoe covers, bowling tape, grip sacks, and other accessories.
The Hammer brand signifies durability and stability. Hammer bowling bags are packed with features, but remain affordable. Some bags have clear tops so you can see the contents easily. The largest bags are made from high-quality fabric and include urethane wheel construction for smooth, easy travel.
Choose a Hammer Bowling Bag
Single Ball Tote/Roller: Whether you want to take one ball to the alley or need to add a backup or spare ball to the top of your roller, get the Hammer Plus One Single Tote. The back of the bag has a pocket that slides over the handle of most wheeled bowling bags.
Double Ball Tote/Roller:  Whether you are carrying one ball or two, the Hammer Deluxe Double Tote Bowling Bag will satisfy your needs. It features a non-slip detachable shoulder strap, a separate vented shoe compartment (up to men's size 15), three large accessory pouches, and a 2-year warranty.
Triple Ball Tote/Roller: Roller bowling bags have two wheels that allow you to easily pull the bag behind you as you walk in and out of the alley. For veteran bowlers who carry three balls, the Hammer Premium Triple Roller Bag, with its large 5-Inch ball bearing wheels and four large accessory pouches, is a popular choice.
4-Ball Roller: If you're headed to practice or league night with four balls in tow, the Hammer Diesel 4-Ball Inline Roller Bag provides excellent portability, smooth and simple transport with four  5-inch Smooth KRuze urethane wheels, and ample storage space. This bag features both end pick-up handles for comfort and easy lifting and a retractable flush locking handle.
6-Ball Roller: When searching for a good 6-ball roller bowling bag, you will want one with stitching, fabric, and wheels that are up to the task of carrying your equipment. The Hammer 6-Ball Premium Roller is an excellent choice. Its high-performance features include 5-inch Smooth KRuze urethane wheels with steel bearings for stability, a locking handle, large shoe and accessory pockets, a removable 2-ball tote, and it's made of premium heavy-duty 600D/1680D fabric.
Consider the wide selection of top-quality Hammer bowling ball bags at BowlerX.com. If you need more information, give us a call at 844.269.5379 or contact us online.