Hammer bowling shirts will really make you stand out when you're on the lanes – or on the town, for that matter. These aren't the types of shirts you saw Charlie Sheen wearing on Two and a Half Men. These are modern shirts made for the modern bowler. BowlerX.com not only carries a wide selection of shirts, but more than 2,000 other items that will help take your game to new heights.
How to Find the Right Bowling Shirt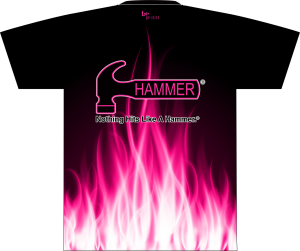 Looking good helps you perform your best – that's the case when it comes to any sport you play. Whether you're just starting out as a bowler, or you've been doing it for years, a good-looking shirt will help boost your confidence. Here's a quick look at how to find the shirt that's exactly right for you.
Be bold – Don't be afraid to stand out from the crowd. It sends a great message – that you're not here just to mess around, you're here to win. When you wear a great-looking shirt, you might just find that the crowd starts rooting for you to get the victory.

Customize – You can put just about any sort of logo you like on a bowling shirt. If you have a sponsored team, it's a perfect opportunity to help draw attention to that sponsor. Or you could simply put your name, as well as your team's name, on the back.

Look for the best fit – Bowling shirts are extremely comfortable, made of breathable materials that help you move freely. Just make sure the shirt you choose fits just how you like. You don't want it to be very loose, because that could be a distraction as you release the ball.

Materials are important, also – There are typically no rules that state you specifically have to wear a bowling shirt while you're playing. But they're especially designed to help you play your best. They'll keep you cool when the action is at its hottest, and they won't interfere with your motion while you're playing.

BowlerX.com is Ready to Help
Every single staff member who works at BowlerX.com is passionate about bowling. We have a deep knowledge of everything we sell, and we can help you find exactly what you need. Whether you're looking for shirts, towels, shoes or even a new ball, we'll have it in stock. There are times where an item we carry gets so popular that we sell out. If that should happen, we'll make sure you get what you need in a timely fashion.
We're proud of the customer service we provide – that's been our top priority for the last 10 years, and that will never change. If you are ever unhappy with anything you buy from our site, all you need to do is send it back to us no later than 30 days from the date of your purchase. If possible, send it back to us in the original package, and double box or double bag the item when you do.
Contact BowlerX.com
The professionals at BowlerX.com can help you pick out the Hammer bowling shirts that will have you looking sharp at the lanes. If you have any questions at all, we'll be more than happy to help. Contact us online or give us a call at (844) 269-5379.