The wrong pair of bowling shoes can be detrimental to your game. Whether you are an amateur or professional bowler, boost your performance with a pair of Hammer Women's Bowling Shoes from BowlerX.com.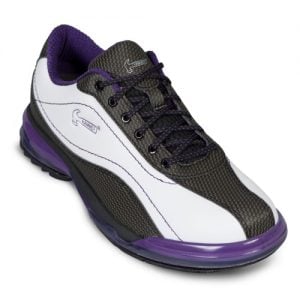 BowlerX.com is an authorized dealer for major brands like 3G, Brunswick, Columbia, Dexter, DV8, Ebonite, Hammer, Motiv, Roto Grip, Storm, and Track, and we stand behind every sale. We are rated #1 for customer service, product knowledge, and pricing. When you shop with us, you will receive first quality products at the lowest prices.
We have a large in-stock inventory. Of course, there are times when the most popular products will fly off the shelves, but, if we don't have it now, we can get it for you fast!
Who is Hammer?
Hammer Bowling is a division of Ebonite International. Until November 2019, the brand's products were manufactured in Hopkinsville, Kentucky. On November 15, 2019, Ebonite International and all of its brands were purchased by Brunswick Corporation. Their products are currently manufactured primarily in Michigan and Wisconsin.
Hammer branded products include entry-level, mid-performance, and high-performance bowling balls as well as quality accessories. The company has a reputation for making the most durable and comfortable bowling shoes in the industry.
Customer Favorites from Hammer
Hammer Lady Force: These high-performance bowling shoes are biomechanically engineered and feature an interchangeable slide pad/heel system with different options included on the shoe and in the box. They are built with a flexible thermal polyurethane outsole, a soft microfiber upper, and a breathable mesh tongue and collar. They have sleek tri-color design that provides the style you want and the utility you need. Hammer Lady Force shoes offer the ultimate in flexibility, comfort, and function, and require minimal break-in time.
Hammer Vixen: These shoes are made with a CMEVA outsole for a light and comfortable fit; a soft, durable microfiber upper; and a STA-DRY Open Mesh tongue and collar for maximum breathability. They are biomechanically engineered for ultimate comfort and performance and will feel perfectly fitted to your feet. Hammer Vixen shoes feature an innovative H-Bar heel locking system as well as an interchangeable slide pad and heel.
Tips for Getting Bowling Shoes That Fit
Bend in the shoes to ensure that they're comfortable. There should be even pressure over the arches.
Try on the shoes in the afternoon for the most accurate fit.
Consider adding your own insoles or orthotics for comfort or a better fit
Try multiple sizes of the same shoes to determine which one fits you best.
Wear socks you intend to play with before deciding on the right shoe size.
Consider whether the materials will stretch. Real leather shoes will stretch. Synthetics won't.
Choose a comfortable, durable and affordable pair of Hammer women's bowling shoes from BowlerX.com to ensure you get the most out of your game. Give us a call at 844.269.5379 or contact us online.