It's important to invest in comfortable bowling shoes that provide a smooth, fluid, and fast glide/slide to prevent injury and help improve your game. BowlerX.com carries a complete line of high-performance bowling shoes for men.
BowlerX.com is the online bowling superstore. We are based in Bethlehem, Pennsylvania, are rated #1 for customer service and product knowledge, and offer exceptionally low prices.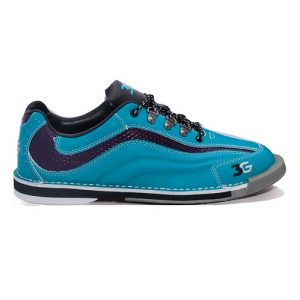 We carry products from all major brands, including Brunswick, Columbia 300, Dexter, DV8, Ebonite, Hammer, Motiv, Roto Grip, Storm, and Track. When you are shopping for bowling products, whether for yourself or for gifts, you can be sure that you will receive first quality products at the lowest prices.
Bowling Shoes: Athletic or High-Performance?
Athletic style bowling shoes are styled very much like standard athletic shoes but are specifically designed for bowling. They typically have a sliding sole on both shoes. Athletic bowling shoes offer more support and traction and a better fit than rental shoes and are good for beginning and intermediate bowlers.
If you are an advanced or expert bowler, you will want to consider high performance bowling shoes. These shoes are fully customizable to lane conditions, bowler performance, and slide length. They are designed specifically for right-handed or left-handed bowlers, with one shoe specifically designed for sliding, and the other for braking.
With performance bowling shoes, the sole of the sliding shoe allows you to easily slide during your delivery, while the sole of the braking shoe is usually made of a higher friction material (such as rubber) to provide traction.
Many high-performance bowling shoes come with interchangeable heels and sole pads in order to match your style and the surface on which you bowl.
A Few of the High-Performance Bowling Shoes We Carry
Dexter The 9 HT: Available for men and women, these comfortable, durable, and innovative shoes have a revolutionary toehold system that will keep you bowling longer. The Toehold Hyperflex Engineering (THE) system resists abrasion, adds flexibility to your foot, and extends the life of the shoes. A molded mid-sole with a raised heel and shank provides a more old-school feel. Thanks to the fully interchangeable slide and traction soles, you can just remove a worn-out part instead of replacing the whole shoe.
3G Sport Ultra:  Made with the same attention to detail as the Tour Ultra series, the 3G Sport Ultra series is made from highly durable and ultra-lightweight hand-tooled cowhide leather. If you're looking for style on the lanes, these are an outstanding choice. Available for men and women, these high-performance shoes come with an assortment of interchangeable heels and soles that let you adjust the level of slide to the approach conditions, as well as a DuPont Kevlar rubber traction sole and toe cap.
Brunswick Team Brunswick – These high-performance shoes for men and women offer extreme comfort thanks to super soft full-grain leather, a mesh upper that offers breathability and flexibility, and an upgraded insole. The Team Brunswick shoes come with everything you need to help you perform at your best, including 5 slide soles, 4 heels, a shoe protector, and a zippered nylon bag. These shoes are only available for right-handed bowlers.
Buy high-performance bowling shoes for men and women from BowlerX.com, an online retailer you can trust! We offer a huge selection of products and exceptional service.  Give us a call today at 844.269.5379 or contact us online.