When you are looking for an excellent selection and great deals on KR Strikeforce bowling ball bags or have questions about sale and closeout bowling balls, bags, or bowling-related accessories, BowlerX.com can help.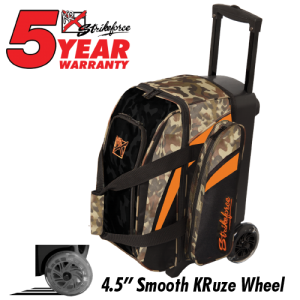 BowlerX.com is the online bowling superstore. We are based in Bethlehem, Pennsylvania and are rated #1 for customer service, product knowledge and pricing.
We carry a wide range of must-have bowling equipment for everyone from new to professional bowlers. Choose from our huge selection of bowling balls, bowling bags, bowling gloves, bowling tape, towels, ball cleaners and polish, grip sacks, wrist braces and supports, and over 2,000 top-quality products at the lowest prices.
Who is KR Strikeforce?
KR Strikeforce is a trusted name in bowling and an industry leader in the design and manufacture of bowling bags and other bowling accessories.
Founded in 1968, the company was then known as the Kimberly Rose Company and was involved in different types of sporting equipment, such as golf bags, exercise equipment, bike accessories, and boat seats.
In 1984, the company began manufacturing vinyl bowling bags, and by 1990, its bowling division had been rebranded "KR Strikeforce". During this time, the company licensed the images of most colleges, the National Football League, and Major League Baseball.
KR Strikeforce is now headquartered in Broadview, Illinois, and makes bags for its own line and Brunswick bags. In 2016, Strikeforce signed a licensing agreement with Ebonite International, bringing Hammer, Ebonite, Columbia, Track, Robby's, and Powerhouse into the Strikeforce licensing umbrella.
Need a Bowling Ball Tote or Roller Bag?
KR Strikeforce bowling ball bags are a great way to carry around equipment and accessories to practice or league night. Choose a bag or tote that holds only one ball, a 6-ball roller that holds six bowling balls, or something in between.
A beginning or recreational bowler may only have one ball, a pair of shoes, and few accessories, so a simple 1-ball tote bag would be perfect. A more experienced player might have 3 balls, shoes, a towel, and a grip bag, and would probably appreciate a 3-ball roller with shoe storage and extra compartments.  Choose from:
Tote Bags: These bags usually have handles and shoulder straps and are meant to be carried by hand. They are typically designed for only one or two balls because more balls in one bag will make them too heavy to carry for the average person. The KR Strikeforce Rook Single Tote Bag is available in bright colors and is extremely affordable.
Roller Bags: These bags have wheels that enable you to pull the bag behind you when you walk in and out of the bowling center. A 3-ball roller bag is one of the most common options, but 1-ball and 2-ball rolling bags are popular as well. The KR Strikeforce Cruiser Smooth Double Roller Bag, which holds two balls AND two pairs of shoes and features KRuze urethane wheels, is a favorite of BowlerX.com customers.
Buy KR Strikeforce bowling ball bags from BowlerX.com, an online retailer you can trust! We offer a huge selection of products and exceptional customer service.  If you have any questions, give our knowledgeable team a call today at 844.269.5379 or contact us online.