Buy KR Strikeforce men's bowling shoes from BowlerX.com, an online retailer you can trust! We offer a huge selection of products and exceptional service.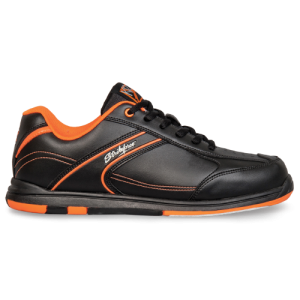 BowlerX.com is the online bowling superstore. Based in Bethlehem, Pennsylvania, we are rated #1 for customer service, product knowledge, and pricing. When you are shopping for bowling products, whether for yourself or for gifts, you will find first quality products at the lowest prices.
Who is KR Strikeforce?
KR Strikeforce is a trusted name in bowling and an industry leader in the design and manufacture of bowling shoes, bags, and other bowling accessories.
The company, founded in 1968, was originally called the Kimberly Rose Company and was involved in different types of sports equipment, such as golf bags, exercise equipment, bike accessories, and boat seats.
In 1984, the company began manufacturing vinyl bowling bags, and by 1990, its bowling division had been rebranded "KR Strikeforce". During this time, the company licensed the images of the National Football League, Major League Baseball, and most colleges and universities.
KR Strikeforce is now headquartered in Broadview, Illinois. In 2016, the company signed a licensing agreement with Ebonite International, bringing Hammer, Ebonite, Columbia, Track, Robby's, and Powerhouse under the Strikeforce licensing umbrella.
KR Strikeforce Men's Bowling Shoe Options
KR Strikeforce men's bowling shoes are available in athletic and high-performance styles and are the perfect combination of comfort and performance. Here are just a few of the options:
KR Strikeforce Flyer Men's Bowling Shoes – These simple but stylish athletic-style shoes are available for both right and left-handed bowlers. They are equipped with soft, durable man-made uppers, Komfort-Fit™ construction, are fully textile lined with padded tongue and collar, have non-marking rubber outsoles, and a #8 white microfiber slide pad on both shoes with FlexSlide Technology.
KR Strikeforce Aviator Men's Bowling Shoes – If you prefer an ultra-lightweight breathable athletic-style shoe, this is a great choice. These shoes are 40% lighter than comparable rubber outsoled shoes and have an Open Cell foam deluxe foot bed for maximum comfort. The universal soles provide #8 White Microfiber Slide Pad on both shoes along with FlexSlide Technology and a raised rubber heel pad.
KR Strikeforce Raptor Men's Bowling Shoes – These high-performance shoes feature a light and comfortable fit that's provided by the CMEVA outsole and the Ortholite 3D Deluxe insole. Maximum breathability is yours thanks to the STA-DRY Open Mesh tongue and collar. Left shoes feature interchangeable slide pads and heel including a Genuine Clarino #8 white microfiber slide pad. They are anti-microbial and anti-odor as well!
The BowlerX.com website offers KR Strikeforce men's bowling shoes and shoes that are ideal for women and kids, all at unbeatable prices. If you need help making a decision or need additional information, give us a call at 844.269.5379 or reach out to us online. We are always ready to help!