You can buy KR Strikeforce women's bowling shoes online from BowlerX.com. We offer the widest selection and can meet the needs of all bowlers no matter their skill levels.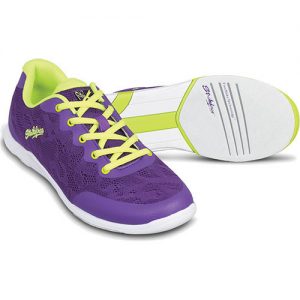 BowlerX.com is the online bowling superstore. We are based in Bethlehem, Pennsylvania, are rated #1 for customer service and product knowledge, and offer exceptionally low prices.
We carry products from all major brands, including Brunswick, Columbia 300, Dexter, DV8, Ebonite, Hammer, Motiv, Roto Grip, Storm, and Track. When you are shopping for bowling products, whether for yourself or for gifts, you can be sure that you will receive top quality products at the lowest prices.
Who is KR Strikeforce?
KR Strikeforce is a trusted name in bowling and an industry leader in the design and manufacture of bowling shoes, bags, and other bowling accessories.
In 1984, the company which was originally called the Kimberly Rose Company began manufacturing vinyl bowling bags. By 1990, its bowling division had been rebranded "KR Strikeforce". During this time, the company licensed the images of the National Football League, Major League Baseball, and most colleges and universities.
KR Strikeforce is now headquartered in Broadview, Illinois. In 2016, the company signed a licensing agreement with Ebonite International, bringing Hammer, Ebonite, Columbia, Track, Robby's, and Powerhouse under the Strikeforce licensing umbrella.
The company's line of women's bowling shoes includes the KR Strikeforce Kross which is built with soft, durable man-made uppers and K2 Kool Komfort Mesh for lightweight support, Komfort-Fit™ Construction, a fully textile lined padded tongue and collar, non-marking rubber outsoles with raised heel, and a #8 white microfiber slide pad on both shoes that feature FlexSlide Technology. The shoe is available in several stylish color combinations.
Frequently Asked Questions (FAQs) About Bowling Shoes
Q. Do you have to wear bowling shoes when you go bowling?
Yes; wearing bowling shoes when you bowl, whether you rent them or own them, is a requirement. Bowling shoes are specially designed to help you slide and stop without damaging the approach. Sneakers and other street shoes are not permitted. This is typically to prevent dirt, dust, and liquids from being deposited on the lanes, and to allow you to slide smoothly on the lane when releasing the bowling ball without damaging the alley.
Q: What is the difference between regular shoes and bowling shoes?
The main difference between bowling shoes and sneakers is the sole. Bowling shoes have sliding soles on each side to accommodate a right or left-handed bowler. These soles are also soft and have no heels allowing you to get a better grip on the lane. Also, the sliding pad on each shoe can be changed so that the friction can be adjusted to suit to different alleys. Regular shoes can have rough or slippery soles that prevent you from playing the game well.
Tired of bowling in house shoes? Buy a pair of KR Strikeforce women's bowling shoes from BowlerX.com. Give us a call at 844.269.5379 or contact us online to explore our wide range of products.