Carry your gear around in style with Motiv bowling ball bags from BowlerX.com. We carry a wide range of must-have bowling balls, bags, shoes, and accessories for new and seasoned bowlers.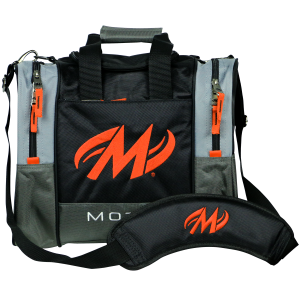 BowlerX.com is rated #1 for customer service, product knowledge and pricing. We have been a family-owned business since 2008 and customers trust us as one of the largest online bowling retailers in the U.S.  Headquartered in Bethlehem, Pennsylvania, we stand behind every sale, and you can be sure that you will receive first quality products from us at the lowest prices.
We offer single, double, and triple tote bowling bags from a variety of brands that will hold just balls. We also offer single, double, and triple tote bags that will hold balls, shoes, and accessories. Roller bags come in 1-ball, 2-ball, 3-ball, 4-ball and 6-ball options.
About Motiv
Beginning in the 1990s, Motiv manufactured millions of high-performance cores for top bowling ball brands. Today, they are a full-blown manufacturer of bowling balls and bowling bags with distinctive graphics technology and are headquartered in Muskegon, MI. In 2012, Motiv bowling balls won first place in every single performance category in a poll of highly competitive tournament bowlers.
Examples of Motiv's high-quality bowling bags include:
The Motiv Shock Single Tote Bag is constructed of heavy-duty 1680D polyester. It features a main compartment that holds a single ball, two very large zippered pockets for shoe storage, and room for extra accessories.
The Motiv Vault Triple Roller Bag is a premium-quality heavy-duty bag that combines 1680D and 600D polyester construction. BowlerX.com customers appreciate the very stable, smooth, quiet rolling across hard floors thanks to the oversize 5-inch extra-wide urethane wheels. There is also a huge vented shoe compartment that fits up to a men's size 15 shoe and four spacious storage pockets for accessories.
Traveling with Bowling Balls & Bags
Traveling by air with your bowling ball(s) can be tricky when you consider all of the regulations, checkpoints, and security processes that travelers need to navigate their journeys from one airport to another.
According to the Transportation Security Administration (TSA), bowling balls can carried onto planes or checked in with baggage. However, each airline can have different restrictions for their flights and the final decision about where your bowling balls should go will rest with the TSA agent who checks your bag.
Be sure to check the airline regulations to figure out how to pack your bowling equipment. If you intend to travel with six bowling balls, you will have to split your balls into two 3-ball bags that are each under the 50-pound limit. Most tote-style bags will work well as carry-on baggage, while large roller bags often need to be checked.
BowlerX.com tip: Carry your shoes / accessories with you as a carry- on. If your luggage fails to arrive, it's much easier to get a new ball drilled instead of getting a ball drilled AND purchasing and breaking in new shoes!
For Motiv bowling ball bags and equipment from your favorite brands, visit BowlerX.com, where you'll find a huge selection of products.  If you need help making a decision or need more information, give us a call at 844.269.5379 or reach out to us online.