Serious bowlers need quality equipment and attire. Motiv bowling shirts are ideal for the professional, amateur, or recreational bowler looking for every advantage competitively. BowlerX.com has a wide variety of shirts, shoes, balls, bags, and every other conceivable bowling-related product. In fact, our inventory numbers over 2,000 distinct items. For modern, stand out equipment and attire, browse our online bowling superstore today!
Trust BowlerX.com for All Your Bowling Supplies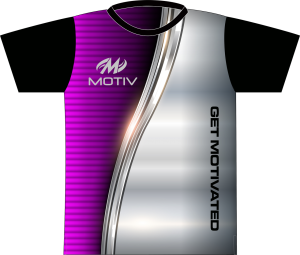 For first-rate products and customer service, count on BowlerX.com. We offer low priced, high-quality branded bowling products, and we're trusted as one of the top online bowling retailers in the States. Every sale and customer interaction will come from a place motivated by love of bowling and dedication to our loyal customers. Since we first began in 2010, we've been dedicated to our customers online and in person at our pro shop in Bethlehem, PA, where bowlers can find USBC Certified Silver Level coaching services available.
Top-Quality Bowling Merchandise from Motiv
The 1990s saw the birth of Motiv, a manufacturer of top-quality bowling goods. Motiv's headquarters are in Muskegon, MI, and the company is known for distinctive graphics and cutting-edge technology, particularly related to its bowling balls.
The Motiv brand available shirts on BowlerX.com:
Motiv Red/Green Claw Dye-Sublimated Shirt
Motiv Pink and Metal Dye-Sublimated Shirt
Motiv Primal Plaid Dye-Sublimated Shirt
Motiv Deep Blue Grunge Dye-Sublimated Shirt
Motiv Black/Red Dye-Sublimated Shirt
Choosing the Best Bowling Shirt
The impact of bowling shirts on your game are subtle and substantial. Walking into the lanes with the unity of bowling shirts, your team will project and feel confidence. A confident bowler is a successful, accurate, and comfortable bowler.
Bowling shirts should be distinctive, individual, well-fitting, and breathable. All of our shirts fit the bill.
The shirt of your choice will unify your team, and when you customize with names, the shirt will also identify the name to chant!
Our shirts will also be the right fit and fulfill the requirements of comfortable bowling. If your shirt is too loose or too tight, return it for an exchange. We do whatever is required to make our customers happy as long as the return is unused and protected with double bags or double boxes for the return trip.
The branded, high-quality shirts we sell are offered in all sizes from youth to 6XL in a range of neck styles including crew, V-neck, sash, and polo.
For Professionals and Recreational Bowlers Alike
Shopping for bowling supplies is easy on BowlerX.com no matter how much you know about the sport. Our team has a deep understanding of all of our products and can guide you to exactly the products that will help you improve your game or impress your companions. No matter the product, we'll have it, and when we are out of stock, we can generally get it in just a few days.
Our customer service is outstanding. We put our customers' satisfaction ahead of all else other than quality. Free shipping, easy returns, and friendly assistance are always available.
Order Today
If you're ready to order Motiv, Hammer, or another brand of bowling shirts from BowlerX.com, call us today at (844) 269-5379 or avail yourself of our website's ordering page. You'll not find a better source for quality, low-priced, branded bowling equipment and supplies.