If you're thrilled to hear about new Radical bowling balls, welcome to the club! We here at BowlerX.com are a terrific source for these and other bowling products at rock bottom prices and in pristine condition.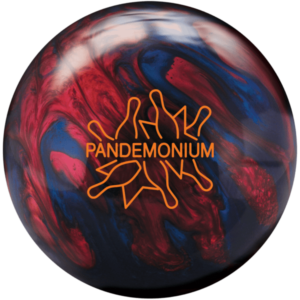 Technically forward, Radical Bowling was founded by Phil Cardinale in 2010. Radical bowling products focus on all performance and skill levels as players strive to improve their bowling games. Radical products tend to appeal to a younger generation of bowlers with a cutting-edge aesthetic and advanced design.
Rated tops in customer service, informed staff, and low pricing, BowlerX.com has grown to become a superior online bowling superstore. We're authorized to deal in each of the brands we sell and strive to offer only the highest quality products.
The Latest Released Radical Bowling Balls
Radical Pandemonium Solid Bowling Ball Released: 3/4/2021
Radical Incognito Pearl Bowling Ball Released: 3/4/2021
Radical Bonus Pearl Bowling Ball Released: 1/14/2021
Radical Results Plus Bowling Ball Released: 1/14/2021
Radical Incognito Bowling Ball Released: 11/19/2020
Radical Pandemonium Bowling Ball Released: 10/15/2020
Radical Results Solid Bowling Ball Released: 10/15/2020
Radical Bonus Bowling Ball Released: 8/6/2020
Radical Zing Pearl Bowling Ball Released: 8/6/2020
Protecting Your Bowling Ball Investment
Once you've found the perfect bowling ball, protect it and make it perform better for longer with proper care. Just as a gamer would a controller or a musician his or her instrument, your bowling bowl is the tool of your sport and must be maintained and protected.
The Benefits of Regular Cleaning and Polishing
The cover stock of any bowling ball is porous, so it absorbs a bit of oil with each pass. Accumulated debris and oil can significantly reduce the performance of your bowling ball, so cleaning is absolutely essential to making sure that your ball continues to grip the lanes and hook back toward the pins.
The first key is to consistently wipe the ball with each pass down the lane.
The second key is to use a ball cleaning product to clean your bowling ball with emulsifiers that remove oil. BowlerX.com offers several different options.
The final key is to polish your ball with a product that doesn't include silicones or waxes that can build up and detract from performance.
The Necessity of Resurfacing
BowlerX.com suggests that you have your ball resurfaced every 50 games or so. Those in the area around Bethlehem, PA, are welcome to bring their balls in to our pro shop at Town & Country Lanes. We also offer Silver Level coaching services as well.
Important Purchase Information
When you purchase a Radical bowling ball, you'll need to know the weight preferred, and if you choose to have the finger holes custom drilled, you'll need the measurements. You can have these measurements taken at your local pro shop, and a good rule of thumb is to purchase a ball two pounds heavier than the one you generally choose when you go out to the bowling alley.
If you take care of your Radical bowling ball, it will take care of you. When you're ready to check out the new Radical bowling balls at BowlerX.com, you can order at any time or day or day of the week via our online superstore or by calling (844) 269-5379. We provide free shipping and a hassle-free return policy.