Are you hoping to display your team loyalty with NFL bowling ball bags? You can visit BowlerX.com online to check out the huge selection of bags, balls, shoes, and accessories we offer.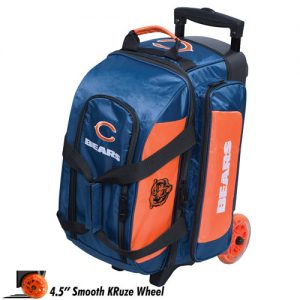 BowlerX.com is the online bowling superstore. We are based in Bethlehem, Pennsylvania and are rated #1 for pricing, product knowledge, and customer service. We are an authorized dealer for all of the brands we sell and will stand behind every sale. We offer:
High quality bowling products at the lowest prices
No seconds or blems
Easy online ordering
No hidden fees
FREE standard shipping
Simple return policy- no hassles and no questions asked
Friendly knowledgeable customer service
Totes vs Rollers
Bowling bags come in two different styles, totes and rollers. They also come in a variety of sizes that are designed to accommodate anywhere from 1 to 6 bowling balls at a time.
Totes are carried by hand or with the use of a shoulder strap. We offer single, double, and triple tote bags that are designed to specifically hold only balls. Or, you can opt for single, double, and triple totes that will hold your shoes and accessories as well.
Roller bags are on wheels. This means you can easily pull them behind you as you walk into the alley. They also come in a variety of sizes and can carry as many as 6 balls.
The NFL bowling ball bags we carry are beautifully designed and built to last. They are available in a range of team names and sport the team logo. These bags are an excellent gift for the football fans in your life.
Our BowlerX triple totes are made of 840D/1680D fabric, the highest quality materials. They feature an EVA lightweight molded base, rugged 3-inch in-line skate wheels, premium YKK luggage zippers, pick up handles, an adjustable tow strap, and a clear "see-thru" top design with our BowlerX.com logo.
Additional Bowling Supplies
While you are enjoying the look of your new NFL bowling bag you might realize that you need additional bowling supplies. If that's the case, we offer a wide range of products and accessories. Some you may want to consider include:
Wrist support. If you do any serious bowling, you might notice that it causes discomfort in your hands and wrists. Our wrist braces and supports can give you maximum comfort and stability. They are available in fixed and adjustable models.
Bowling towel. This is an essential item to add to your new bag. Towels do more than just get the oil off your ball. They are a great way to dry your hands when the game starts getting intense!
NFL bowling balls. Since you have the bag, why not get the ball to match? Supporting your favorite team with our NFL logo balls gives you all the more ability to stand out. And, they come in all sizes from 6-16 pounds.
Bowling apparel. At BowlerX.com we offer a wide range of bowling shirts to suit all bowlers. We have everything from t-shirts to dye-sublimation products.
If you are interested in purchasing NFL bowling ball bags, look no further than BowlerX.com. You can give us a call at 844.269.5379 or contact us online for more information.